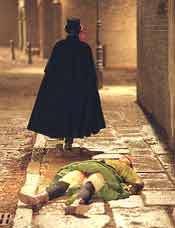 Make no mistake, From Hell is a tale of Jack The Ripper, the person (s?) who ripped through the entrails and fabric of Victorian London in 1888 by brutally butchering streetwalkers in such gore that laid waste to any theory that God protected at least in death. Make no mistake? That's 'cos you aren't sure what the Hughes brothers are trying to depict here - the psyche of an opium addict, the gaslight-cobblestone England of the 1900s with all its squalor and class-politics, or the romance between a desolate cop and a spirited hooker.

The mistake that the creators of this period film make is in understanding the reason that audiences would want to come for a Jack The Ripper movie - they come for leg-grabbing suspense and edge-of-the-seat horror. What From Hell gives you instead is a slow-paced psychedelic perambulator of a movie that arouses as much fear as an episode of Scooby Doo, but takes 4 times the duration.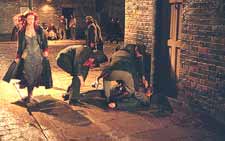 For those to whom the tale is new, Jack The Ripper was perhaps the first modern era serial killer, and stalked the alleys of London in 1888 killing prostitutes in utter savagery and ripping out their most intimate body parts, allegedly while they were still alive. Nobody ever found out who he was or why he did it, and theories abound. Several films have been made propounding several speculations, and this visually-rich one, based on Alan Moore and Eddie Campbell's even more densely textured graphic novel, is the latest, and is based on a popular but widely debunked theory.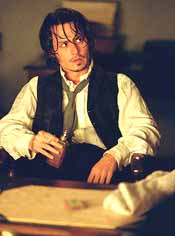 Set in the red-light ghettos of the Whitechapel district of England, the historically accurate story details the savage tale of a devil of the dark who entices hookers with grapes and dispatches them in luxuriate self-indulgence. The case is being handled by inspector Fred Abberline (Johnny Depp), an opium-addict widower who has psychic visions when under the influence and who is known for the brilliant guesses based on them that help him solve complex cases. The film, though, spends too much time in quicksilver visuals of Abberline's visions which, while technically consummate, do no good for your attention.

Each of the killings happens in the same way, and they all involve the sorority of Mary Keller (Heather Graham), the cutest and brightest prostitute after ...er, no one (everyone else in the group, coincidentally, looks the stereotype hag). And yet, you don't feel any anticipation. Jack gets 'em all, with Abberline's visions serving more as "I told you so"s rather than leaders - even when it's finally Mary herself.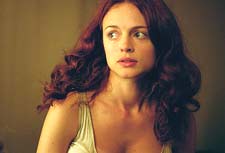 Several suspicions later, the actual killer turns out, admittedly, to be someone most wouldn't suspect, but there's too much to make up for by now. And Abberline's own end is too Bollywoodish. Among the cast, Johnny Depp is as good as the context will allow him, and so's Heather Graham. Robbie Coltrane, who plays a sergeant aiding Depp, is impressive, too. The visuals of fin-de-siàcle London are brilliantly created, but aesthetics are taken a little too far when the flick steers completely clear of any depiction of The Ripper's modus operandi or any depiction of what he's done (somehow it doesn't appear in this case that the CBFC had much to do with it).

Whether you're a historian, a Depp fan or just a gore freak, nothing's enough reason to be watching this.