When you come to think of it, Fun2shh is the most obvious name for a comedy movie. Why hadn't anyone thought of it before? Unfortunate, then, that it sounds exactly like the air being let out of a tyre. You're going to feel something like that tyre about five minutes into this film.

And here's why in a few simple words - Paresh Rawal sucks. This is an awful thing to watch, especially if you've seen his other movies. And this is no ordinary suckiness we speak of. Coming from an actor of such comic potential, it makes you want to sit down and cry. In which case you must sit through the whole movie.

The baseline of the film is: two dudes from the 10th century. This, as you've rightly recognized, is an attempt at cool. The movie also attempts funny. And sex appeal (although we're not sure about this one, we probably have it confused with funny). And it's all one big inexcusable mess. Inexcusable because of the people it takes down with it - Paresh Rawal, Farida Jalal and Gulshan Grover.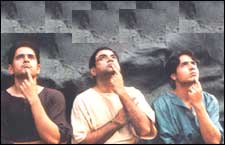 The movie is all about three guys from Loserville, Mumbai. Ajju (Anuj Sawhney), Vicky (Iqbal Khan) and John (Paresh Rawal) are tired of being non-entities and decide to redeem some of their uselessness by safeguarding from a notorious thief, an important ancient crown off the head of an important ancient king. But things go wrong and they end up being charged with the stealing of the relic.

As they run away from the kanoon and its long arms, they stumble into the 10th century, when they were no movies. Ha, you wish.

Their travel back in time takes them to the kingdom of Baboosha (Gulshan Grover), with nubile daughters whose incessant giggling will lead you to a deeper understanding of the motive behind the invention of the electric chair. Raima Sen and Netanya Singh play the princesses, and these roles are sure to lead to better ones. They can't possibly get much worse. Then, again, this is Bollywood.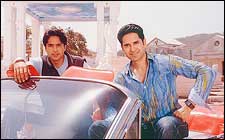 Ajju and Vicky are charged with spying and sentenced to death (your hopes soar at this point), and Paresh Rawal gets up to some inane gags and crass jokes. After a long half-an-hour of this, you want to leave. You don't want a refund, you won't press charges: you will just be happy to leave.

But the story trudges doggedly on. By saving the king's life and the honor of his crown, the guys regain favor at the court, with the help of a sorceress (Farida Jalal - who was never ever meant to wear a red cape). They decide to go back to the 21st century, but not without their quota of 'romantic moments'.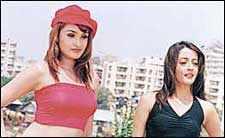 Speaking of which, we must warn you about this song in the film, which is basically in Hindi but manages to simultaneously destroy the English language also by spelling out its angrezi lyrics. It would be funny if it weren't so pathetic.

In the midst of it all, Kader Khan, a neta-wannabe who runs a security force, is waiting for the three guys to emerge from the 10th century so he can arrest them. His character is perhaps the unfunniest of the lot. Grates on your nerves, but it must be said that in this respect Kader Khan doesn't let anybody down.

Back in the 21st century there are lots of police chases and double-role mix-ups, plus a chase through a theme park in the rain. Finally the crown, the king and his princesses are returned to their correct century. The film ends. And you wake up from the best nap you've had in a long while.