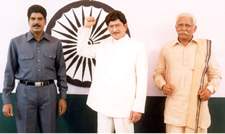 Vacchina Vaadu Suryudu... Ho hum. Indeed, an interesting choice of sticky-tag considering that a human revolt hinges on the arrival of a GI Joe Surya. And then, what makes the picking of the movie's name even more right and proper is that it is a Major Surya who teaches the laymen of Sivapuram to revolt for their basic rights in barely a couple of days. Not just to revolt, but to rise so well that they can successfully overthrow a filthy rich, powerful and crooked politician who has been whipping their sorry asses on a daily basis right from the crack of every dawn. In fact, they build so much of self-confidence that if the situation warranted they could've even battled zillions of alien ships - albeit only under the able leadership of Major Surya. Buying this? But wait, that's not all.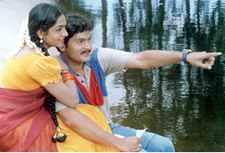 Since there has never existed and will never ever come into existence a true Tollywood movie without a duet, there is a coochie coochie poochie couple in the movie, Gauri and Shanker. Names remind you of the lover monkeys Gauri-Shanker? Bingo! After surviving the movie, same here!

As in every rebellion-Tollywood-movie, Vacchina Vaadu Suryudu has a shady politician, Ramanatham, who keeps his thumb pressed on the villagers of Sivapuram. Nobody would dare to be in opposition to him, not even the Panchayati president, Poliah.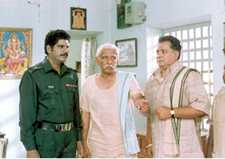 Surya - no, not Surya IPS, but Major Surya, tada! - feels sorry for the pathetic position of the villagers, and immediately starts instructing the youth on how to contend with Ramanatham. A couple of days, and everyone in the village is ready to revolt (these crash courses are everywhere, huh?).

Enter the monkey couple, who are always found either coochie-ing or standing out in the fields. Then the people do their usual gig of action, counter-action etc. The flick breathes its last with Ramanatham being pronounced guilty in a Praja-Kshetram, attended by the honorable CM (Krishna), for the murder of a well-known Minolta monkey Satyam (Suresh). The murder is recorded by a fixed camera, but somehow shows the murder from all 360 degrees.

Vacchina Vaadu Suryudu starts weakly but gathers up a head of steam and starts sucking your wits like a nuclear powered vacuum by the midway point. Then what? It has nowhere to go but down. As the story progresses, the logic gets thinner and the plot holes get bigger and bigger.

Major Surya, the compatriot sprite, seems to be a promising replacement for Krishna. Everything about him - his robotic movement, his aerobic boogies and his mechanical combats - reminds you of Superstar Krishna. He seems to be lagging in dialogue delivery part, though. The performances of the rest of the cast are not even worth this mention. As they say - some things are better left unspoken.

The movie has so-so social communiqué, but otherwise collapses under its own stupefying lack of common sense. Think of it as the black hole of Tollywood movies. A force so powerful that no hint of entertainment value can possibly escape. You hopefully get the idea - I'm too worn out to keep whipping this dead horse.