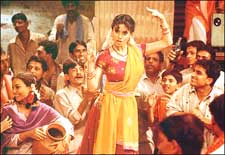 Just when you thought Ram Gopal Varma could only come up with movie names that were monosyllabic, he comes up with one long enough to qualify as a sentence, complete with a subject and a predicate. That said, Varma has always given films that have been different not only from each other but also from mainstream cinema. Most of them have been thrillers or action oriented. With this one, he has delved into uncharted waters - only, without decent navigation equipment.

The film is easy to identify with. Millions of people in this country aspire to become superstars. They trickle into Mumbai each day. Few ever make it to a producer's office. Most are stuck with being junior artists forever. The rest either go back to where they came from or get lost in the Mumbai melee. So, when Chutki (Antara Mali) comes from Gajrola to Mumbai with only dreams in her eyes, not knowing how to go about realizing them, it becomes a little difficult to digest that she makes it with the minimum of fuss.

All she needed to do was get married to Raja Ram (Rajpal Yadav) and come to the city where dreams are made. She meets a few directors (actually, just one) who turn her down, supposedly because of her village-belle appearance. No problem. Raja Ram takes her to a beauty salon where she is instantly transformed into an urban chick (this was quicker than what happened in My Fair Lady, and I thought that was fast!). Next, she meets some event manager called Pyarelal (Govind Namdev), and she bags her first film. Needless to say, the film goes on to become a superhit.

Filmmakers are dream merchants. They sell us our own dreams, our own aspirations, and our own deepest innermost desires. They bank on taking us to the land of make-believe, to a paradise that is a figment of our imagination. They show us our version of Utopia. But, every once in a while, a dash of reality would not hurt. This is where the film is found wanting.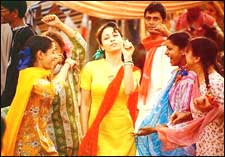 Chutki represents the quintessential Indian dreamer, who fantasizes about making it big. Where he makes it is not the bone of contention. He weaves this web of fantasy that gets him through his, otherwise, existential being. Maybe one or two in a generation come close, or even succeed. And it is this aspect of painful reality that the film should have depicted. In making Chutki achieve her goals, the film becomes the typical rags to riches story - a good fairy tale or a bedtime story for kids below eight, but not one that elicits further consideration.

Except for that, the film is not that bad a deal. There are moments of humour, of hope and of despair. The playing of Madhuri numbers intermittently does not hurt either - us, that is. But, they do manage to bring out the fact that Antara Mali is not an iota of the dancer that Madhuri is. Rajpal Yadav is, as usual, at tremendous ease. That he is not among the stars of today in itself is testimony to how shallow the human race is when it comes to appearances.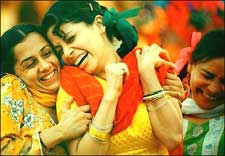 Playing this part is probably the highest honour any actress worth her weight can hope to get. Antara is a rank newcomer with only a couple of films in her kitty. Actresses come and actresses go, but very few reach where the likes of Madhuri do. We love Madhuri, always will.