Bollywood calls again, and this time around it's a goofy romcom schtick that manages to poke a great deal of fun at both the Indian and American cultures, and manages to get away with it.

Ramu Gupta (Jimi Mistry) mostly likes to Macarena. Tired of wiggling his stuff in a one-room dance academy full of Punju-aunties with red lipstick smeared on their tired faces, he decides to seek his dream of making it big in Hollywood by actually setting out to America. He lands in the Land Of The Free and finds his first gig as a waiter. Fixing a customer's attitude, he soon finds himself lighter by one Chicken Tikka Masala and his job.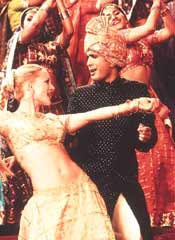 Tom Cruise's Risky Business comes to the rescue as Ramu soon finds himself in a porn production. When he fails to get his 'wood up', his co-star Sharrona (Heather Graham) decides to take him under her wings and teach him a thing or two about the birds and big buzzing bees.

This is where the Akashik radio and the past karmic results kick into action, as by some quirk of fate, Ramu becomes a sex mystic with the key to the kundalinis of a bunch of totally haphazard, random Manhattanites. You know, the sorts who aim their solar panels at the moon. He begins to rule the rosters of the New York hip dinner-party set with some plagiarized porn star self-help lines that Sharonna has been doling out to him. Helping him on with his quest of making it big in America is the new age junkie and brat pack head Lexei (Marisa Tomei), who can't pee her way out of a shoe even if it had instructions on the heel.

Then the inevitable happens - the romcom decides to focus on the 'rom', and the 'com' becomes goofier with some Bollyowood ishtyle numbers juxtaposed with Travolta's Grease.

The Guru, like I said, is essentially an unpretentious effort at poking fun at both the Indian and the American cultures. Jimi Mistry as the clueless but scheming failed porn star struggles in an essentially weak script. After East Is East he seems to be getting there, but it's a bit bizarre to hear an essentially British actor trying on an Indian accent in an American setting. But his charm and goofy grin see him through.

Heather Graham as the tart with the heart is good - but then through all that wriggling, I really wonder if anybody was paying any attention. It's a little hard to see Marisa Tomei being squandered in a wasted role of the junkie, and you feel a bit shortchanged for her.

On the whole, The Guru, ahem, has a dry start, but then it catches on, and as it limps towards a hackneyed finale, it does also manage to inflict a grin on you. Whether the West's fascination with Hindi films is just a fleeting fancy or a larger issue of racial condescension, I really don't know. But for now - Bollywood bangs.