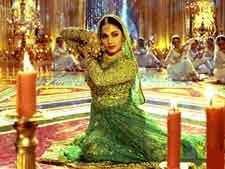 D se Dil (Soul) + D se Deewanapan (Passion) + D se Dard (Pain) + D se Daaru (Liquor) = Sanjay Leela Bhansali's D-D-D-D-Devdas, plainly the most expensive Indian movie ever made at Rs. 52 crores. Now, if by any chance you are thinking "Ae shaane... Hata saawan ki ghata (I don't care about it much) aur bas itna bata ki aakhir mein Devdas tapakta ki nahin?", then for you Mr. Tapori Bhai, the answer is "Yes". For the rest of ladies and gentlemen, here's the flick.

"Devdas" sets into motion with a jaw-droppingly picturesque palace,
and no wonder it is the humble dwelling of Devda. In no time the ambience splits open with joy and energy - Kaushalya (Smita Jayakar) is wild with excitement that her son Devdas (Shah Rukh Khan) is returning home after ten years in London. Devda's back in India.

Begin sizzling love between Devda and cute Paro (Aishwarya Rai). Alas, but the course of true love is never smooth... Devda's parents put up an objection to their love and marriage. Worried about the consequences, Paro plans to elope with Devda, but the idea only results in the humiliation of Paro by Devda's parents.

Furious, Devdas leaves home and then writes to Paro, asking her to forget him as their marriage might destroy his family. Devastated, Paro gives in to her mother's pleas for a marriage elsewhere.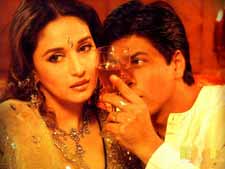 Paro's marriage shatters Devdas. He turns to liquor and a brothel dancer Chandramukhi (Madhuri). Even though at first he turns her away, increasingly he begins to like her. Later on he admits his love for Chandramukhi. But liquor takes its toll on Devdas and he kicks the bucket, still yearning for the love of Paro.

The performances by Aishwarya and Madhuri are first-rate. They are totally engrossed in their characters. Shahrukh somehow manages to re-establish himself as a t-t-t-talented artiste. Jackie's character in the movie appears to be pointless, though. The choreography by Birju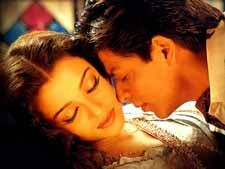 Maharaj's leaves you awestruck. And the plush settings by Nitin Desai are stunning and simply superb.

Devdas is a lengthy but classic silver-screen rendition of the sweetness of first love and sincerity of true love, and is derived from a novel by Sharat Chandra Chattopadhyay of the same name. Shah Rukh and Aishwarya play the lovers with a sincerity that is not only appealing but refreshing in this era of raunchy and raw movies. It is recommended only to the patient and the non-taporis.