Making movies is a challenge. It is not easy to research the plot, verify the information and develop a strong message, all in a matter of a few days. That is exactly the reason no one does it. It can be tough to look for scripts of inspiration. Is there enough muck in the world everyday to make movies about? Fortunately, since we still have Dino and Bipasha, we don't have to worry too (two) much (muck).

Accordingly, they've found a grave script for them - say, more grave than discussing the fact: Why is there a sign in theaters saying, "In case of fire, please do not use the elevator"? I mean, regarding stupidity, this must've been the forefather of all stupidity. Of course, everyone knows in case of fire you don't use an elevator - in case of fire, you use a fire extinguisher!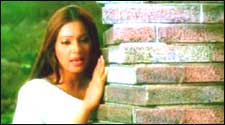 We shall shelve that for a moment to discuss the original topic of the thread: Bipasha and Dino. All the digression in the world will not let you forget the impressions they make on your mind. You won't forget, since they didn't make any impression to remember. Of course, that doesn't include that bathing suit Bipasha so subtly displayed while blinking her eyes ever so rapidly.

Bips and Dino are the corresponding daughter and son of two very thick friends. Vikram Gokhle is Dino's dad, and Aloknath, Bipasha's. Alok is a Lucknow Nawab and Vikram, a Mumbai Pandit. They've been the best of friends since the day they decided to make the movie. And the way they behave, you'd bet your last penny they're even closer after the film.

So when Dino and Bips proclaim their fondness for each other by rubbing their bodies against each other and all the trees in the neighbourhood, we know that all is not going to be fine soon. But instead of diagnosing them for Rabies, the fathers actually decide to exchange body organs. Queer treatment, we know.

Actually, during a wedding in the family (don't ask which family - both these families make the schmucks in Hum Apke Hain Kaun seem sober), Vikram (Dino's dad) has a kidney failure. Alok comes to the rescue and donates his. And this how their conversation in the hospital sounds like:

Vikram: Hum dono ke beech yeh kya hai nawab? Tune yeh kya kar diya? (Pointing to his posterior)

Alok: Yeh sab kudrat ka khel hai pundit. Jo sab bhi mera hai woh ab tera. (Smiling gingerly)

Vikram: Hum dono ke beech ab kabhie daraar nahin hoga mere yaar!

Alok: Mein aane nahin doonga, kabhi nahi.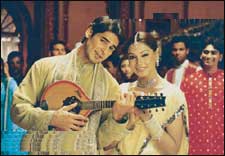 While this was happening, Dino is satisfying his voyeuristic desires by eavesdropping on them. So, he somehow decides that if he tells people that he loves Bipasha's brea... er, breathtaking personality, then their dads might have a rift in their "friendship". So he keeps mum. Like he's been doing throughout, anyway.

But as the laws of short-skirts and big biceps go, Alok finds out about his daughter's hidden "feelings". He then orchestrates a heart-attack scene to get it all sorted out. Which gives Vikram to again barge in a few "friendship" lines. "Nawab, yeh kya ho gaya? Tere dil ko kuch ho gaya tho mera dil tho tera hi hai na!"

So there - Bips and Dino get together. Frankly, as you can see, the only true story is about two great "friends" and their organ exchange frenzy. The love story looks like an afterthought. Anyway, even if it were the main plot, Dino and Bips would make it seem like a puppet show.

No script, no performances, no music, no fun. Ishq Hai Tumse isn't much about Bips and Dino. It's about a flop remake of our Tollywood's Sampangi. It's about grown-up dads saying with moist eyes: "Ishq Hai Tumse". So, you game enough?