As anyone who has seen
Spiderman
will know, anything can happen to an ordinary man if he just dares to dream. This is the premise on which Dil Ka Rishta, Aishwarya Rai's maiden production venture, is made. So Spiderman was a friggin' comic strip, but Aishwarya Rai isn't, and so this film is very much a reality. And the main reason that you should watch it is that it lasts much longer than the time your money would if burnt to ashes instead.
Dil Ka Rishta basically says that if you despoly love a girl and she marries someone else, then it's totally cool. Sheesh, is it just them or did the whole of mankind miss the point all along? Jai (Arjun Rampal) is a rich industrialist who is as charismatic as a doorknob but not as successful with women. He falls in love with Tia (Aishwarya Rai), who unfortunately is not into low-priced-actor-wannabes. Or so you think until you realize that she's already in love with Raj (Priyanshu Chatterjee).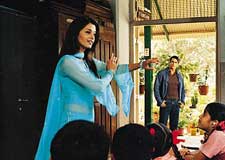 Jai uses all his limited creativity and ample money to court Tia (other suggestions for name: Kia, Mia, Fia, Gia, Baniya!), but she refutes it all to get married to Raj, and even proactively has a kid with him. Jai, in the meanwhile, aggressively becomes a drunkard. In one of his deep denial modes, his bartender and his super-sexy "best friend" Aparna (Isha Koppikar; and it can happen only in Bollywood that a red-blooded man can have such a "best friend" and never put the make on her - as for us at fullhyd.com, we don't want Isha Koppikar as a best friend, hee hee!) tell him that if he truly loves Tia, then she will be his, and he should just keep the faith. And you immediately know what they are playing at.

Now we have seen this and we have seen that, but this is something else. To make the prediction come true, the script has Tia and Raj get in an accident unwittingly with a drunken Jai's car (okay, Jai is drunk, not the car) where Raj is killed and Tia loses her memory. The rest is too convenient for anyone not to be able to guess. Jai nurses Tia and she falls in love with him, and the prediction comes true. Voila.

Like we said, that's what the film's about - that if you truly love a woman and dare to believe she will be yours, then she will be yours. Things like her getting married to someone else are just procedural hassles, and that guy will just die. Someone please put some iron in our hands.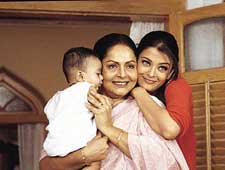 The plot has been written by someone who's either on the lunatic fringe or hasn't the slightest respect for human life and emotions. I mean, just because the original guy can't get over his love for the woman, her husband who loves her dearly has to die and she has to suffer complete memory loss so that "true love" triumphs? Wasn't the guy who actually married the girl just as human and didn't he love her as much? And what of the parents of the couple who have to see and bear such enormous trauma?

Tragedies in love happen all the time - you gotta pick up the threads and carry on. The course for mitigating the pain isn't a blank cheque, like this plot blissfully assumes. Thanks for giving a generation of youth a great new denouement to hope for. Now just put voodoo in our primary textbooks.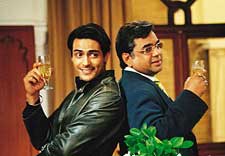 Arjun Rampal and Priyanshu Chatterjee are cheap labor for producer Aishwarya, and their performances are proportional to their prices, though the latter is better. Aishwarya herself is strictly a bimbo in this one, and doesn't stand out in a single scene. Only Paresh Rawal is good, as he usually is.

The film is totally deviod of the color or vibrancy that characterizes Bollywood these days, and plods on most of the time. The music is very average, even despite that hyped Dayyare song. There are a hundred other things that are wrong, and they'll soon be unloading this on the TV channels for 10 cents on the dollar. Hopefully you'll have work to do.