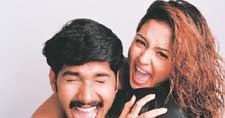 Fools rush in where angels fear to tread. Completely unmindful of this maxim, heavyweight director Dasari Narayana Rao rushes in where audiences fear to tread. Can't blame him really, for the two most common things in the world are hydrogen and stupidity.

For one, the plot of Fools is so flimsy that you could make a better movie if given a particle accelerator, a liquid lunch and two rubber bands. Did this make sense? Neither did the movie. If you are still keen on knowing more about this plotless flick with an antiquated star cast and songs shot at Padmalaya Studios, here's the whole truth and nothing but the truth.

This self-confessed 'Fools' is about a bunch of four dorks of the Adabala clan who swear not to get married until they find brides with families flawless into the last seven generations. Itu edu taralu atu edu taralu being the buzzword. Now these are days of recession when brides themselves are hard to come by and brides with flawless antecedents even more so, and understandably the four heavyweights are left single even when they are reaching their 60s.

But while they act like chaste bachelors, they secretly have affairs. The eldest bro Ranga (Dasari) goes ahead and even has a teenage daughter, but keeps the whole thing under wraps. One fine morning, Ranga's wife Manga (Kovai Sarala) decides enough is enough and enters the Adabala household with her daughter in tow to tell the world the truth. So, all the while you thought that the teenage daughter is Gazala. No, she's actually Ranga's niece. Hehe, Fools fooled ya, didn't it?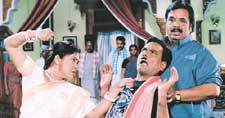 Mom and fake daughter finally succeed in driving sense into the four brothers by making them realize that should stop playing fools looking for such brides unless they want to stay single and desperate for the rest of their lives. After that task is accomplished, the women then dare Ranga to be a real man - admit that he's married and embrace his daughter.

Amidst all this chaos, there is a li'l love story between Ranga's kid brother (Srinath) and his fake daughter; one real cheap country song with three hookers, antics of Brahmananandam etc.; and a really sad flashback involving Ranga's sis and bro-in-law (Jayasudha and Krishna).

Dasari's role is among the better ones. He raps relentlessly and those are the only funny moments of this so-called comedy with a laugh time of approximately six minutes. Surprisingly, Gazala not only serves as the eye candy, she also consumes a chunk of the screentime. The film also marks the comeback of yesteryear stars Krishna Kumari and Jayasudha, not to mention both Krishna and Dasari.

Every cloud has a silver lining. This one has at least one most totally remarkable highlight in Superstar Krishna looking sensational in his a) rose-tinted glasses b) perfect 10 pair of dentures c) a contemporary hairdo and d) a supercool accent. It is absogodamnlutely chic when he says 'shyut up, jushht shyut up, vokhay?'

If after all this, you still want to watch Fools, go ahead. Just remember that a fool and his money are soon parted.