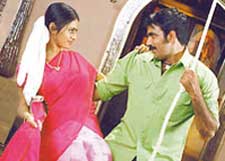 Thieves are one of several conscience-lacking beings in the universe, like moviemakers. However, unlike moviemakers, thieves do not let their booty dance in public theaters. That's probably because thieves don't like to dance. I'm merely assuming this because I never bothered to stand around long enough to verify it. Let's face it, we're all scared of thieves, moviemakers or not. And in Dongodu, we're not dealing with the inferior species; we're dealing with that conscientious screen thief that we all got accustomed to, since the times of Robin Hood.

Madhava (Ravi Teja) is the ethical burglar (har!) careening the streets of a rural Andhra setting. He steals stuff to help the needy. After meeting his needs fully, he sometimes even steals for the sake of others.

Now, whenever the hero's a crook we say "Bare necessity is the mother of all invention," and when the villain's a crook, it's "Bare mothers are a necessity for all invention!" So for bare necessities it is that Madhava invents his rope trick of stealing for the first time. It's a cynical world. The same people who never helped him with his childhood struggles want help from him now. The same people who never wanted to part with their wealth, want him to part with his. The same people who could not bear to see him on screen are now running away to planet Zulu. Given the rate at which Ravi Teja is pelting out movies, no planet seems far enough.

Anyway, every village has an evil feudal lord and a dolly comedian. Played by Tanikella Bharani, this zamindar dude is a chic blend of both. He's playing cat and mouse with our thief dude, forming the basic theme. Madhava robs something from the zamindar, and he retaliates in some wicked way. This theme's quite original, if you're from the planet Zulu. Unfortunately not many people are and it's not helping. It feels like the makers tried this after reading one of those quick books, "How To Make A Movie In 30 Days". The surprising part being that nobody noticed it was under the 'Humour' section. By the looks of it, this might've worked in their favour; there are quite a few side splitters in the script.

Tom and Jerry continues between the hero and the villain, with a heroine (Kalyani) thrown in for glamour, a bunch of jokers for humor and an emotional young sister for clamour. After a routine khichdi of all this, the hero swears to stop stealing; the villain vows not to have any ill- feeling and the director expects the applause to reach the ceiling.

'Ceiling' reminds me that the first few scenes had some background music that made me jump out of my skin, right to the ceiling. This could pave the way for the mating of nature's strangest forces - Telugu movies and Metal music. That's right, the background score for those scenes was that reverberating riff from 'Youthanasia' by Megadeth.

Another novelty of the movie is Ravi Teja allowing his bushy moustache to be pulled vigorously, to prove that it's real. The humor doesn't end there. Dharmavarapu Subramanyam, Sunil and Ali also churn out some real good ones for ol' times' sake. This apart, no need to rush to the theaters with the eagerness of a kid about to blow out his b'day candles.