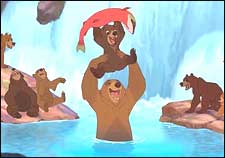 This is no hi-fi Pixar animation; it's vintage Disney, doing what it does best - spinning tales of animals, adventure and family. So while comparisons with Finding Nemo are inevitable, they're pointless. Sit back, enjoy the ride, and don't let your kid throw popcorn in the aisles.

Kenai (Joaquin Phoenix) is a hot-headed eighteen-year-old, who belongs to a Red Indian tribe that lives in an America emerging from the Ice-Ages. Kenai has two older brothers, Sitca and Denahi.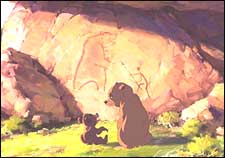 One day when the tribe's food supply is raided by a bear, an enraged Kenai throws a rock at the beast. The bear does not take this kindly. It attacks furiously, and in an attempt to save Kenai, his oldest brother Sitca dies. In revenge, Kenai tracks the bear down and kills it. But that's where his good luck ends.

His fury and hatred, Sitca's spirit decides, could do with some perspective. So Kenai is lifted into the sky, in an impressive show of color and light, and he's transformed into a bear.

By the time Denahi gets to the scene, there's nothing left of Kenai but his clothes on the ground and a great big bear. Understandably he thinks Kenai's been worsted, and Denahi chases who thinks is his brother's killer.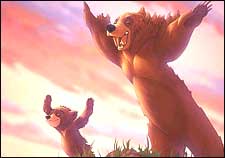 Kenai manages to escape, and sets off in search of Sitca's spirit. On the way he meets Koda (Jeremy Suarez), an adorable bear cub who's been separated from his mother, and Rutt (Rick Moranis) and Tuke (Dave Thomas), two intellectually-challenged but entirely affable moose. And it is this journey that the movie is all about.

Riding on mammoths and splashing through streams, with Koda talking his ear off, Kenai discovers that animals have a language and a world of their own. And the only beast in this world is man. Kenai discovers, much to his grief, that it was Koda's mother that he killed. How he deals with this leads to an unexpected but quite satisfying ending.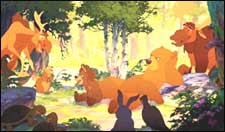 The story is told with simplicity and humor (the moose and Koda are hilarious). Its message will find resonance with animal-lovers in particular. But Brother Bear is also a good movie for those whose love affair with animation started with Sunday cartoons on DD, and hasn't really ended yet.