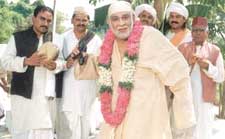 Piliste Palukutha, put in a few words, is 'Shirdi Sai Baba made easy for Gen X'. Part love story and part religious message, the film in essence tries to familiarize the youth with the rapture, ascendance and glory of Shirdi Sai Baba with the aid of a love story.

The movie sets the ball rolling with a dialogue between the present-day counterpart of Nanavali (the winner of the-best-devotee-of-Sai-Baba award), Nana (Chandra Mohan) and Sai Baba (Vijaychander, obviously). Nana is pleading Baba to find a good alliance for Shanti (Shamita Shetty), an altruistic female who is only second to Nana when it comes to devotion towards Sai Baba. Baba is all smiles!

Enter Ajay (Akash)... an admirable collegemate of Shanti who can't even say the word "sex" around a woman. But then guess what?! In a wag of dog's tail he is seen lip-kissing Shanti in front of one and all in the college! (Some way of saying I love you, I thought!). And then guess what? She retaliates by responding encouragingly with a cute I-love-you-too smile! This 'whatever' almost had me thinking for a while that given an opportunity, a Tollywood filmmaker can even make a desktop computer with sixty-four kilobytes of memory interact with an ATM, scan equipment for problems, and probably even shoot laser beams.

Now that Baba has to be brought back to the screen, Shanti develops a brain tumor which no specialist can cure. Even a school-going toddler can guess by now that only Baba can save her from dying, which he does along with converting all the non-believers into his devoted devotees.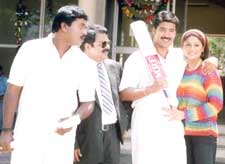 Piliste Palukutha may be pertinent to a devotee's lifestyle, but is extremely trite for an average cinegoer with all its boring dialogues. You don't feel like you've really been let into the world of Sai Baba like you should have been. Go rent the good ol' "Shirdi Sai Baba Mahatyam", if you want to get an air of what Sai Baba is all about.

Jaded viewers, after having seen too many devotional movies over the past few years, may detect substantial fatigue in the formula, especially when compared to the similar "Ammoru", which had much the same odd-couple dynamic (an atheist hero paired with a devotional heroine) and much the same theme - viz. the unexpected stirring of devotional feelings (not too surprising, really, given how these things are typically written by people in their late 40s and early 50s!).
Akash, the
Aanandam
boy, with his non-existent action, almost makes you feel that the he was offered the male protagonist's role just because he looks good enough. Period. In contrast, Shamita Shetty, the sharara-sharara girl, surprises the audience by proving that she can do more than just swing and sway... she actually acts!
The direction is okay, but the movie is about thirty minutes too long. The cinematography is "boring". There wasn't a single landmark shot in the whole film that seemed to visually suggest something more than what the film was telling us. Unfortunately, the music turns out to be commonplace as well.

And, of course there is this it's-only-funny-until-someone-gets-hurt-and-then-it's-hilarious kind of humor and occasional slapstick (mostly involving Sunil), as well as moments of genuine inspiration - mostly involving Akash, who spends the entire film pursuing Shamita with the obsessive fervor of Wile E. Coyote chasing the Road Runner - pmeeb, pmeeb!



Piliste Palukutha may have a salvation message hidden in it somewhere, but it doesn't seem very strongly presented.