There is a deep part of us that is enthralled with stories about great yearning - whether the subject is lovers caught up in their passions, explorers mapping new territories, or men and women sacrificing everything for their dreams. Based on the Booker Prize-winning novel of the same title by A S Byatt, Possession follows Maud Bailey (Gwyneth Paltrow) and Roland Michell (Aaron Eckhart) as they uncover a secret relationship between two Victorian poets, Christabel LaMotte (Jennifer Ehle) and Randolph Henry Ash (Jeremy Northam).

Maud, a brilliant English academic given to doing things by the book, is researching the life and work of poet Christabel La Motte. Roland Michell is an upstart American scholar in London on a fellowship to study the great Randolph Henry Ash, now best-known for a collection of rapturous, late-life poems dedicated to his wife. Then, by accident, he discovers several letters hidden in the back pages of a book.

They appear to be love letters sent by Ash to LaMotte; but an essential part of the Ash legend is that he was famously faithful to his wife. If the letters are authentic, Roland will become a sensation in academic circles. Roland seeks out Maud who specializes in La Motte, and the two soon find themselves following a trail of clues across England to the Continent, echoing the journey of the impassioned couple over a century earlier.

In making Possession, director and screenwriter Neil LaBute took on a gargantuan task. Despite a few minor omissions (in the novel, Maud doesn't just wear her hair tightly up; she hides it beneath a turban) and one major gaffe (in the novel, Roland is British, not a swashbuckling American upstart), the movie captures the spirit, if not the form, of the book. The result is that this movie is a perfect juxtaposition of a repressed and idealistic 19th century with the tacky and materialistic 21st. It segues beautifully back and forth between them as it spins out its parallel love stories with the one constant being the gorgeous English countryside.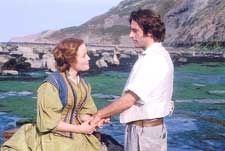 Ehle is almost brilliant in her heartrending portrayal of a woman who is struggling to choose between two forbidden loves, that of the married Ash and a female painter (Lena Headey). Paltrow plays Maud with a stiff upper lip, but not necessarily as an ice queen, and when she finally bends to the prospect of a romance with Roland, she doesn't rush into his arms so much as find herself in them.

Just as impressive is the subtle transformation Paltrow goes through from being a dry, uptight scholar to someone who finally unearths the joy and freedom in her life to literally and figuratively let her hair down. The rest of the cast turn in admirable performances as well, adorning their roles with witticisms and liberal measures of panache.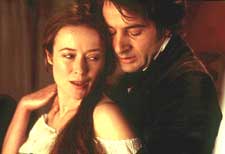 Possession is a sweeping romance that flows smoothly in between time periods. There's nothing harried or rushed about the editing - the story builds naturally and with a steady rhythm all its own. It is genuinely romantic and, although slow-paced, never boring. It's refreshing to escape into a film that doesn't jar you visually between scenes at a fast and furious clip. While it certainly isn't a perfect movie, the effort alone is worthy of praise. See it for the quality the story and the beauty of the period segments, but to get the real emotion of the tale, it is hard to beat reading the book.