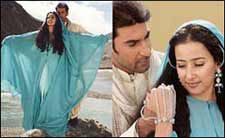 Escape From Taliban is good, but not good enough. An escape from the familiar Bollywood landscape of designer ghagra clad heroines and cute love stories it is, allright, but it still fails to hit the bull's eye - almost by a kilometer.

Blame it on the overdose of mobs, bullets, Klashnikovs, grenades and fire of the first half hour; abused women, battered wives and bruised mothers of the second; silent sobs, shrieks, wails and howls of the third; and tears, groans, moans and sniffles in the last. Or simply an unpleasant confrontation with the harsh hometruths upfront. Either ways, this one lacks the cinematic appeal of the usual Mani Ratnam / Ramgopal Varma genre of taut realistic movies.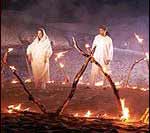 There is a gripping real life story (based on Sushmita Bandhopadhyay's first-person account book titled Kabuliwala's Bengali Wife), plus Manisha Koirala to add her weight and all the elements that can stir our sensibilities. But the documentary-like narrative and unimaginative direction offset the above. Thus Escape From Taliban is left as a movie that is strictly for academic interest, or for the foreign film festivals.

Sushmita (Manisha) is an Indian Hindu who elopes with an Afghan dreaming of a romantic life with her sweetheart. But once she enters the arid hinterland, she is in for a shock.

First her faith in her husband is shattered once she is introduced to his first wife. Then she is confined to the four walls because the Muslim scriptures say so. Then she has to contend not just with the treatment meted out to her by uneducated Moulvis when she falls ill, but also the treatment meted out to the MCP men in the household.

Add to that the state of unrest in Afghanistan, lack of communication and barbaric rules against women, and Sushmita is all provoked to fight the system. But every time she raises her voice, she ends up being beaten, battered and bruised. Her attempts to mobilize women to fight against the same meets with little success.

Finally, having lost her child (after she's beaten to pulp when she is carrying), her faith in her husband and in the system, she decides to escape from the clutches of the Talibanic rule. The Taliban is cheesed off at this blasphemy and slaps a fatwa on Sushmita. The last few reels are devoted to her trials and tribulations in taking on the Taliban.

The complete lack of strategy on the part of Sushmita is rather annoying. Her hopes to taken on the gun-toting Talibans simply by screaming against them would only result in her getting beaten up all over again. But since we are told the film is faithful to Sushmita's autobiography, we can't crib.


The problem with this movie is that everything is shown in black and white. So instead of empathizing with the victims, you feel nauseated by the kicks and beatings. That's where Mani Ratnam and his ilk score a point over the other directors. The former can show violence without showing bloodshed. The complete lack of visual panache gives the movie a very B-gradish look.

Manisha is the only one with a role to boot about and as usual she's simply the best. Interestingly, debutant Nawab Khan who looks like an out-and-out Afghani man is from Afghanistan.

On the whole, Escape... is depressing and as realistic as it can get. If only it were packaged with the necessary cinematic appeal, it could have become another Roja or Border. For now, it will have to be content winning two hours screentime and a couple of awards at Cannes or more such film fests.