Prithvinarayana is a moving story of one man's struggle to overcome all odds and survive, as he shows the world and himself how life's toughest battles are all fought in the mind and how the greatest ordeals of life all succumb to sheer human grit. That man is you, dear viewer, as you valiantly struggle to sit through one of the most wretched productions of Tollywood in recent times.

Based on a script that must have been written in about 46 seconds by someone of the same IQ, Prithvinarayana is a classic example of the intellectual bankruptcy that characterizes most of the stuff churned out by the largest film industry of the country. A 100% creativity-free production, the flick is nothing but a sick attempt to milk money out of Srihari's fan club - whatever there is of it.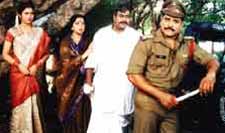 Prithvi (Srihari) is an imaginary police inspector who's posted to a village called Cherukuru to heel the resident despot Rayudu (Ranganath) - and even if the flick had just stuck to this theme that was first used perhaps in 978 BC, it would have been tolerable. But no. Like an untreatable ringworm infection on your face that spreads in random directions, the movie keeps uncovering one revolting twist after another in its plot.

Prithvi goes about setting things right with a vengeance, pounding 40 well-built armed men with his bare hands (okay, he uses his legs, too - he's human, after all) and galvanizing the villagers' consciousness through speeches and scenes originally written for Krantiveer. When he's not doing this, he displays a flair for humor that makes your stomach churn like a friggin' hydel power project. How many times have you cracked jokes to a pretty 18-year-old girl about sharing latrines? Only, even if you did, you'd do it with more class than Srihari.

Anyway, it turns out that Rayudu is actually Prithvi's father. While you are still reeling from this shock like you've got nothing better to do, comes long another Srihari - long-lost brother cum self-pity-specialist. About as entertaining as a red ant in your undies, he hems and

haws in his pathetic attempts to convince you that he has had a deprived childhood and that he is as good an actor as Kamal Hasan. The deal is, Rayudu did not rescue this guy (named Narayana) as a kid when he was kidnapped by a rival, and so Narayana loses out on a normal childhood since he is never returned. And now Narayana wants to destroy Rayudu for it.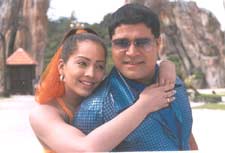 The rest of the flick deals with how the brothers unite, how they rescue their family from external villains, and how they think you even care. We don't know if Srihari uses dupes in the stunt sequences, but it's a pity he doesn't use them in all the other scenes. His performance as the second brother Narayana is simply repulsive.

In its bid to project Srihari as a superstar - oh, pardon us all over the place, a "Real Star" - the movie uses some Rajnikantish mannerisms and "whoooo" sound effects for him, a lion's roar in the background whenever he's about to beat up 40 persons unarmed, and cheesy graphics by some guys who must've done a Learn-3D-Max-In-30-Seconds course. Only, Rajnikant, the lion and the graphic guys all would've been much better options for the role.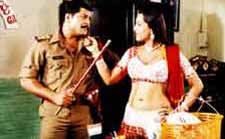 The women have nothing much to do except make Srihari look all his years and weight whenever they stand next to him - and this includes Lakshmi, who plays his mother. The music? Well, we've heard lousier songs. There, we've already said 3 good things about the movie (including calling it music, and calling them songs, get it?).

This one is getting out in 3 weeks, so rush if you want to make it!