Spy Kids 2: The Island Of Lost Dreams Review
Performances
Script
Music/Soundtrack
Visuals
: "Never send an adult to do a kid's job."
After their initial induction into secret agent stuff and big box office profits, Carmen (Alexa Vega) and Juni (Daryl Sabara), the thrill-seeking offspring of acclaimed spy couple Gregorio (Antonio Banderas) and Ingrid Cortez (Carla Gugino), are back. Since discovering their inherited spy coolness, being a Spy Kid has turned into big business. Mom and dad Cortez are merely tiny cogs in the machine and Carmen and Juni are just two of the hundreds of Spy Kids in the new program. This time they hope to retrieve a stolen gadget (the Transmooker), save the world, their parents' jobs, and their status as super junior operatives who can pack youngsters into theater seats.

Brimming with gobs of gadgets, Spy Kids 2 won't disappoint young audiences who are weaned on everything electronic - although a cool obstacle comes into play because the stolen mechanism is able to shut down anything dependent on electricity thereby turning technology into excess baggage. Suddenly the Kids are forced to use some ingenuity... even an elastic band can be a spy's best friend. Another lesson director Rodriguez wants children to learn has to do with the centrality of family. The man is not just in touch with his inner child, he is involved in a lucrative partnership with the little guy.

In both the original Spy Kids and this sequel, kids take center stage, and are always more important than the adults, a well deserved honor. Kudos should go out to the two lead kids Alexa Vega and Daryl Sabara, who continue to make the grade as believable super-duper spy kids, as well as to their new adversaries in this round, Steve Buscemi's psycho Dr. Dolittle scientist character and Bill Paxton's over-the-top carnival freak host. The two new additions to the Cortez family, Ricardo Montalban and Holland Taylor, as the in-laws from hell, also turn in entirely believable acting performances.

Spy Kids 2 shares its predecessor's smart but relaxed sense of humor, a sophisticated imagination and the ability to be sharp and playful without being malicious. For the most part, it also makes very good use of all sorts of nifty little gadgets, ensuring that the pace of the film never slackens and that the movie never stops to entertain.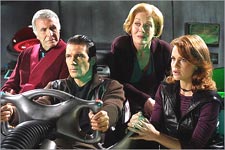 Some things in the film, though, simply don't add up. Mucho minutes are spent on the rivalry with another spy family, and there's lots of cool stuff happening there. Still, very little background about the rivalry is shared. And though some of the FX are way-cool, certain happenings in the flick are completely impossible to understand. Skeletons come to life. Cool, but HOW? Carmen and Juni can suddenly hear each others thoughts. Neat! Umm... hey, HOW/WHY/WHAT?

While the film does try to illustrate the value of family bonding, there are enough elements in the movie to cause parents of 12- and 13-year-olds to wear a slight frown. All through the film, these kids steal, lie, cheat, deceive and manipulate, and for convenience, hide undesirable behavior from their parents - the very practices among worldly adults in a dog-eat-dog society.

Then there's that music piece done by 13-year old Vega emulating Britney Spears which shows a lot of hip-grinding and pelvic thrusts with her legs spread apart and the camera placed below the knee. Without sounding alarmist and paranoid, the effects that such elements can have must not be underestimated. At worst, in the long run, they could render the child insensitive to the inner workings of conscience, so the movie needs to be viewed with discernment.

Spy Kids is fun, even cute, but see that flashing yellow light: Proceed with caution.