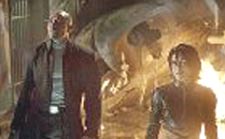 The funda behind the title "Half Past Dead" is that Steven Seagal in one of the opening scenes takes seven bullets in his chest and is officially declared dead. He is supposed to be dead for about 20 minutes and then a bunch of medical birdies revive him. I bet if they had revealed to him what absolutely hideous stuff he's going to go through later, he would've never made any sort of attempt to live again.

Steven Seagal plays Sascha, a Russian immigrant who's an undercover FBI agent. He's gone undercover to crack down on an international car deals scandal and there he makes a lot of friends on the wrong side of the law, the most prominent among them being Nicholas (Jeffrey Rule), who's been like his brother. During one of their (Sascha's and Nicholas') routine hauls, they get busted by the FBI and are packed off to Alcatraz, an ultra modern prison just a day-and-night's swim away from the shark-infested waters off the US coast.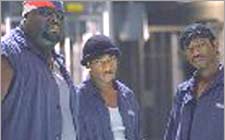 Alcatraz is a newly commissioned state-of-the-art prison where prisoners are fitted with special implants to prevent escape. For the first time, a very notorious criminal is about to be executed here, and a gang of mercenaries aided by Donny (Morris Chestnut) swamps the place to find out where the gold treasure was hidden by the guy who's to be executed. Predictably, Sascha rallies all the prisoners, who, incredibly, oblige, and let the mercenaries' souls free from their bodies. So much for that.

Steven Seagal looks pathologically depressed all through the movie. Not that one can help looking like that too much given the movie you are in, but that adds to the miseries of the audience. Like many other movies, Half Past Dead also tries to create a chemistry between two opposite characters, and while that worked in the case of Jackie Chan and Chris Tucker in the Rush Hour series, it fails miserably between Seagal and Jeffrey. The background score, which is primarily a mish-mash of Heavy Metal and Rap, only pretends to add pace to the flick. There's hardly any dialogue in the movie - it's violence all the way.

The film is akin to blowing a loud horn on a deserted road - the driver is happy with what he did, but nobody notices and nobody cares. The only thing that would keep you awake in the comfort of an air-cooled hall is the ringing din of the machine guns - else you may consider counting the falling bodies to doze off.