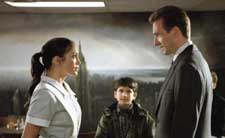 What do you get when you take the best director in Hollywood, give him a script full of quick-witted dialogue and plenty of mush, and add a solid cast of experienced actors? I don't know, but it sure as hell isn't Maid In Manhattan. It's a Wayne Wang film, which means that there are three parts crap for every one part watchable movie, and the crap comes first, and there are only three parts. The majority of the ideas in Maid In Manhattan are horribly plagiarized, and the original ideas are godawful. I am convinced that every Jennifer Lopez movie is a sign of the Apocalypse.

The plot centers around Marissa (Jennifer "Holy shit! I STILL can't act" Lopez), a tough-talking, street smart, single mother, and Latino maid at the most fun hotel in the world. It's so much fun that she spends more time dancing, singing, and wearing the guests' clothes than cleaning. She is surrounded by lots of wacky maids, who have no purpose of living except to serve as examples of unassuming wackiness. In reality they are just boring, sad people, and have no revelation whatsoever.

Marissa's son, Ty, is a zero with a whiny voice and no presence. He is stupid, mechanical and has an annoying liking towards Simon & Gar-bunkle. While bumming around the hotel, Ty runs into the weasel-faced Chris (Ralph Fiennes), who, through the luck of contrived scripting, rises to the top of the assembly and is running for senate. Ty introduces Chris to his mother who's just finished changing into one of her guests' Dolce suits, and Chris mistakes her to be one of the highbrowed exurbanite. Needless to say, it is yuppy love at first sight.

Smitten by love, Snowhite (or was it Cinderella) dallies around with Prince Charming and his flea-infested, brain-dead mutt - Doofus - resulting in a lot of pseud-sounding un-intellectual jargon. And from here, the story just limps from one big melodrama to the next without giving a high hoot about the audience's need for coherence.

Soon, Mr. Cheesebrain realizes that Marissa is actually the hotel maid and the bubble over his head with the word "SUCKER" on it pops, which by itself is really cool (at this point he lets out one of the fakest smile to ever be filmed, resetting the counter "cool" back to zero - watching him smile is like death in slow motion).

Mixed in to this confused mess is a bunch of sub-plots that start, stop and make no emotional or logical impact on the story. The biggest waste of all, Chris again falls in love with Marissa in the last minutes of the flick, just so we can all learn an ABC "After School Special" lesson about how shallow people can be.

The director, Wayne Wang, seems to think that he doesn't need tension, drama or anything resembling a plot to keep us in our seats. Try to imagine a film that consistently reaches the level of creativity shown by naming the two French guests (resembling Cinderella's step-sisters), French Poodles, and you will overestimate Maid In Manhattan.

The director gives the movie the perfect level of "what the hell are we doing" incompetence by making the movie plod from pointless scene to pointless scene. It leaves us J-Lo fans delightfully scratching our heads in the sort of dumbfounded confusion we can only imagine J-Lo feels every moment. The performances of J-Lo and R Fiennes are awkward. They can't dance, yet the director makes a point of showing how funky they are. Together, they have the chemistry of dog-poop.

Mostly, I think the problem is Wayne's direction, but it would have helped if the actors had charisma. Fiennes is just flat, pasty and bluish. He mopes, reads his lines, and clearly doesn't give a damn about this movie. I think teen girls think he is cute and I won't argue with them because they're likely to scratch my eyes out. But, they're wrong. There is no charm, nothing clever. He's just a guy who should be selling popcorn at the theatres but somehow won the Hollywood lottery. Wayne should be the guy sweeping the floors at the halls.

Maid in Manhattan is an expensive, unpleasant, mind numbing, gratuitously irritating pile of over-processed crap. It's the latest example of those halfwits in Hollywood expecting us to dig through their garbage to find the big, important messages. Well, congratulations, goofballs, pat yourself on the back for once again spending millions of dollars to point out the obvious and then undermine it by wrapping it in a disgusting, overripe sensationalist movie.