A story straight out of a fairy-tale setting. A grandson brings to life a tale envisioned more than a century ago by his grandfather. And how!

Using every trick today's technology has to offer, Simon Wells, second generation to the legendary H G Wells, weaves a spell, albeit taking a few liberties - well, actually quite a few liberties - with the original script. What starts out as a morbid and detached look at what man could end up doing to himself in a totally dystopian scenario in The Time Machine, evolves into a romantic saga, which ends quite happily. One could say Wells takes off where his granddad stopped the story.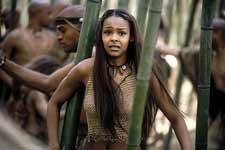 Professor Alexander Hartdegen once more takes to time-traveling a hundred years after H G Wells sentenced him to an unknown end. This time he has amazing visual graphics and a very imaginative director to aid him. He also has a craggy and gaunt Guy Pierce filling in his clothes. To add to all that he has a very good reason to come up with this incredible machine. He needs to go back into the past and save his sweetheart who he has lost in an unfortunate incident.

Realizing the futility of trying to save his love because of some complicated sounding logistics, he tries going into the future trying to find an answer. Just escaping the largest head-on collision ever - the moon collapsing onto the earth - he goes into a swoon, waking up 800,000 years later.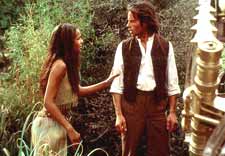 With Mara (Samantha Mumba), a teacher who conveniently remembers a language spoken 800,000 years ago, around to welcome him, the professor steps into the charming world of the soft-spoken and gentle Eloi. And without further ado, those horrible nocturnal monsters Wells dreamt up, the Morlocks, attack. Only, here they are an impatient lot, and twilight suits them fine.

In an attempt to save Mara, the prof ends up meeting Uber Morlock, the big daddy of the Morlocks, who is like their hypothalamus. After some philosophical parlance, the two fight it out, and finally the prof blows up the time machine along with the Morlocks and settles down happily ever after with Mara, I presume (they were last seen holding hands and smiling at each other).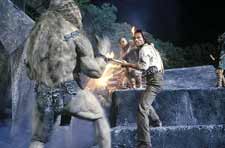 Guy Pierce does a good enough job as the time traveler. He manages to morph as and when the script demands, from nerdy to bereft and heroic. Quite credible. The others don't do much. As for Jeremy Irons, by the time you know it's him under all that pancake and powder, he is dead.

Those who have been through the book will see the discrepancies in the story. It's all a li'l rosier, and Alexander smiles in the end. But that does not take anything away from the movie as such. The travel through time especially is breathtakingly portrayed. The entire movie looks like a romantic's version of the original Time Machine. The rough edges are smoothed over to save reel length and preserve the movie's pace.

The English-speaking Mara is pulling it a li'l too far. Plus Orlando Jones plays a holographic encyclopedia with a sense of humor, and he too manages to survive for 800,000 years. But then, if we were looking for ground-based realities, would we be watching "The Time Machine" in the first place?