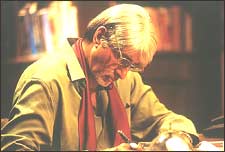 "Hi! I'm Amitabh Bachchan. People call me the Big B. Not because of my name but because I make Big Bucks. I make huge bucks. I make mega bucks. I make... you get the picture. In that attempt I've done this film. A part of being successful is to be aware of the happening fads. To this end, I got a wig that resembles current pretty boy runt Vivek Oberoi's hair do. In this film I play Dr. Sidharth Sinha, an old hand whose only wish in life is seeing his hospital fully titivated and polished. He has a son that... here he comes himself..."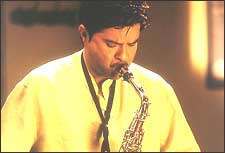 "Puff, puff... pant, pant! Hi! I'm Anil Kapoor and I'm completely out of breath because they made me run throughout the length of the titles. Even though it's not recommended for someone of my age! But puff, puff... pant, pant... that's alright, I'd do anything for my role... puff, puff... pant, pant, pant! I told the costume guy these pants were too loose to run in! Anyway, I play Dr. Akash Sinha, Amitabh's son. The first sniff of the anaesthetist, and I decide to give up my entire consciousness for her! Sniff, sniff, here she comes..."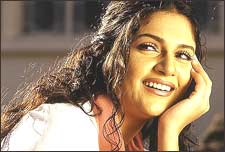 "Hi! I'm Gracie Singh. Everyone keeps asking me why I haven't done any films after Lagaan. You see, I immerse deeply into every role I take up, so it actually took me this long to shrug off the village accent of 'Gauri' in
Lagaan
. But now I'm back, I'm urban and I'm cuter than before. In this one, I play Dr. Neha, the love life of Dr. Akash. But unfortunately not the only love life, 'cos here comes that vamp..."

"Hi! I'm Preity and I'm sick of carrying a label of being "pretty". So I got myself a real ugly wig for this movie. Being in the august company of such seasoned campaigners, I'm delighted to have gotten the best role - that of Sonia, the spoilt, adulated brat who's hell bent on getting a husband, especially Dr Akash Sinha."

Well, with such intriguing characters it's almost impossible not to weave a decent tale. Dr. Sidharth Sinha leaves his last breath trying to save a kid's life. All he ever wanted in his life was to rejuvenate his hospital, but with no funding, it all seems in tatters.

This could change if Akash (his son) would marry Sonia, whose dad (Randhir Kapoor in a frantic effort to make a comeback) would then paint the entire hospital red. Akash then is torn by the tug-o-war between his love, Neha, and his dad's vision. Finally he surrenders love to his dad's armaan.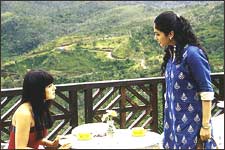 Picking Missouri as a backdrop for the movie was perhaps the best decision of the crew. Dew-drenched leaflets on sea green meadows and misty silhouettes on mountain-tops always make for exhilarating visuals and spectacular post-card viewing.

The second part of the flick depicts the estranged relationship between Akash and Sonia, and how they come apart. Preity bagged the role of a lifetime with almost every brilliant scene of the film involving her. So Filmfare, here she comes. She meanders effortlessly between the spoilt brat and the bubbly girl. In the story, eventually, Sonia realises that money can't hold a relationship, and lets go of Akash.

Technically, the film is brilliant. Whether it be the touchy scenes with Amitabh and Anil or the mushy ones with Anil and Gracie, the movie propels the plot along with them. And the picturisation, my word! The sound recording looks like it was inspired by Van Gogh. Van Gogh had his ear cut, but we need a state-of-the-art hearing aid to catch some dialogues. Either that or be an expert lip reader. That's the only glitch in the flick.

Amitabh might bag a National Award for his heart attack scene. But with Amitabh it's hard to say, he might bag one for blinking an eyelid. Anil does a great job too. A directorial debut cannot get better than this. Neither can the music get any better than the song, Meri Zindagi Mein Aaye Ho... Beethoven never sounded half as sweet as that song.

People might make references to ER and even the crass Sanjeevani of TV and how the movie looks like them. Yet, it remains the best movie to have surfaced this year.