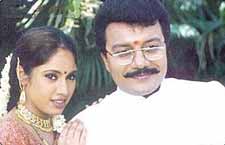 Mistakes are the stepping stones to success, someone told me. Wish someone would tell that to people like Sai Kumar, Thriller Manju and maybe even Mithun Chakraborthy. Because I am running out of 'Below 18' expletives here, and this sarcasm is becoming a compulsive disorder. Plus, with this movie I shall have nightmares of toothy apparitions dressed in gaudy red shirts with matching ties, white jeans... and red goggles! Ouch!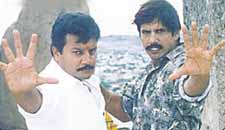 The director is Sai Kumar's brother. What that implies, I shall leave you to figure out, and move on with the story. The characters are first introduced one after the other. Jeeva (Sai Kumar) is the much-loved mayor of Hyderabad. Anwar (Rami Reddy) is the leader of a Muslim party (ahem ahem), and wants this guy killed. Photographer Purushottam or PP (Thriller Manju) is a photographer (would you have guessed?) and uses his skills to catch people in compromising positions and blackmail them. Vishaal (Arun Kumar) is a jobless nut who impersonates pizza-delivery boys to romance with his girlfriend. Vyjayanthi (Vani Vishawanath) is a police inspector who is pretty agile considering the sheer mass she totes around (herself).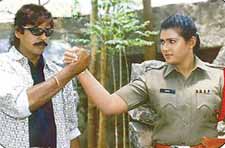 One thing you gotta say about these 'action' movies. They have one helluva plot compared to romantic flicks where the lead pair just stare at each other from beginning to end. But the problem is, the imagination with which the script is written is deplorable. Here the entire script is built around one maha-twist and four to five 15-minute long fights.

And that story would be: Anwar wants Jeeva dead. PP photographs Jeeva in an incriminating posture with his wife's dead body. Vyjayanthi then finds Vishaal in an incriminating position with the same Jeeva's wife's body and arrests him. The most happening place to be in Hyderabad is obviously beside Jeeva's wife's body. Get yourself photographed in incriminating positions for free, and if you are kinky you can even have stout ladies handcuff you.

Back to the review. PP blackmails Jeeva. Vayjayanthi happens to see one of the photos, but the photo is eaten by PP, and so there is no proof. Vayjayanthi helps Vishaal escape so that they can catch Jeeva. Then we have PP fighting Vayjayanthi first, then Vishaal, and finally Jeeva. The twist reveals Jeeva to be innocent and Anwar to be the real criminal. Jeeva is re-elected, PP reforms and starts taking passport size photos, and Vishaal finds proper employment. Ain't that a nice, happy ending!

No songs here, as is usual with these brand of movies. The direction is all about getting the fights right and making sure they are linked up coherently. The acting amounts to a lot of fundas on religion and peace being bandied about by bad actors. And the reviewing amounts to enormous self-control and a temperament that surpasses that of even Dravid.