Supergood Films is a banner that has one of the best track records in Tollywood, with hits like Raja, Seenu, Nuvvu Vastavani and many more churned out under it. But before Tollywood, there was the Law of Averages. And so, here's Adhrushtam.

Take a runaway bridegroom, a runaway bride and an entire battalion of runaway cops and thugs and landlords, put it all together, and you have this runaway disaster. Inspired by all the Hollywood movies with running scenes in them (except Chariots of Fire), this flick runs away from the word go. The audience is left gasping.

Tarun (Tarun) is supposed to have completed an MA in philo. Looks more like a doctorate in cross-country sprinting, the way the rest of the movie goes. Offered a job at Alleygator by Babji (Venu Madhav), he becomes the manager there. He comes across sundry characters like a corrupt cop Naik (Prakash Raj) and a thug Magadha (Jeeva). He rubs off the thug on the wrong side, namely the scalp, and that too with a beer bottle. The great escape has begun. Wish we had taken the cue too.

Some nut of a jyotishi tells the guy that he will have a better life after his marriage. So this guy lands up at a swayamvar (In case you don't know what that means, it is a lottery with a husband as the prize) in a palace at Nampally. D-uh!

Keerti Dhanraj (Gajala) is the 'princess', and she has suitors landing from Uganda to Nepal. With live coverage and security and lots of other crap, this lady quizzes the suitors on their opinions on love, sex and marriage. A kiss is more important however, according to Tarun, as he smooches the girl till she goes BOO-HOO. Result = Tarun on the run again. Escape á la Sylvester Stallone and Kurt Russel in Tango and Cash with belts and electric cables.

Now Tarun meets Asha (Reema Sen). She's a take-off on the Julia-Roberts-in-Nike character. The two start running together. And behind them are Naik, Magadha, a landlord and some other unidentifiable nuts.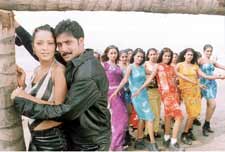 A running love story develops. Asha falls for Tarun. The two decide to get married. Asha comes to know of Tarun's reasons behind sprinting at the last moment and ditches him for a solo running career. Meanwhile this guy is hauled back to the palace by the cops where the princess marries him.

The script as you can see is pretty much non-existent, and the direction done by the same guy is pretty hopeless, too. The music is tolerable, though, and the choreography does well due to Tarun. The rest of the rigmarole does not do anything to help this one running away altogether. And as for me, I need to avoid some phrases from hereon like 'Got to run', 'Running for Prez' or 'Neat Run'! Hold on! That's rum! I'm outta here!