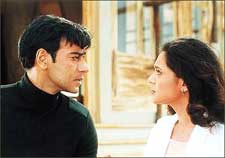 Confucius say - Those who sin once are destined to be reincarnated as stuffed monkeys. And if you sin any more - God forbid - you'll end up like me! I must have been Jack the Ripper in my last spell on Earth. Coz this time around, not only am I a stuffed primate... I also belong to an OTT, oozing-with-syrup orphan Khushi (Rani Mukherjee).

When Khushi isn't busy gyrating at strangers' weddings, she takes time out to work as a banquet hostess at a Delhi hotel. But mostly, she enjoys being a fraudster who'd con anybody to get ahead in life (and these people are so astonishingly gullible, I'd say that they deserved to be conned anyway). And when she's not doing all these things, she pours out gobbledygook about her lofty dreams, her knight-in-shining-armor, blah, blah and some more blah... and guess who has to listen? Yep. Poor old you.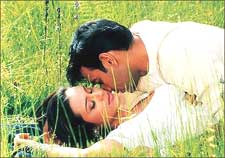 So one night at a party when she refuses a drink to an already sloshed Ranbir (Ajay Devgan), he doesn't pull out a gun and shoot her (how I wish...). Instead, he walks her home and manages, in those ten minutes, to narrate to her a sob-story called "The life and times of Ranbir Malhotra - jilted-by-girlfriend, jaded-with-job Delhi architect". He also pours out gobbledygook about his lofty dreams, his home-out-of-a-fairy-tale, blah, blah and some more blah... Jeez, this is catching.

Soon Khushi loses her job and her apartment and all she can call her own are a suitcase-full of designer outfits. Not for long can this lady do without five-star comfort. A brainwave later, she heads off to Shimla to park herself in Ranbir's under-construction dream-house. Telling everybody who is anybody in Shimla that she's his fiancée, she manages to acquire all she'd need to set up house. This includes antique furniture given to her by Ranbir's large... excuse me, humungous, family, as shaadi ka shagun.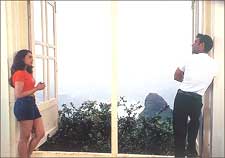 She also bumps into Ranbir's old flame Pooja (Sonali Bendre) and manages to ignite some new flames of jealously. Re-enter the khadoos Ranbir, and just as he's about to throw Khushi out of his house, it's his turn to get a brainwave... "Hey, this babe could help me win back my ex... and paint my house... and convince my boss to extend my vacation... and basically put up with all my MCP antics. Two grand a week is a small price to pay for this smorgasbord."

So, the hysterically happy Khushi gets to shower in his designer bathroom (strangely the only fully-done room in the house), and also, the plan seems to work... they manage to make the oh-so-gorgeous Bendre turn a pretty shade of green, and just when Ranbir is about to win her back, Khushi convinces him to play an extra-innings. Voila, that's all the time she needs to make him fall for her.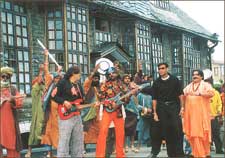 A looong smoocheroo 'tween the two (within plain eyesight of Pooja) signals the start of the melodrama in the movie. This is the one part of the movie that really stands out - a moving piece of story-telling like this usually has the audience rising in their seats... and heading for the exits. Enter a host of caricature-like relatives (amma, babuji, beeji, didi, devarji, driverji, bawarchiji... I know I missed out a few) who have fallen so much in love with Khushi, they're ready to forsake Ranbir for her. (Why...? Your guess is as good as mine.)

So, the two decide to continue with the charade just till until it's too late. But this plan goes awry when Ranbir realizes that Khushi could bring him more khushi than Pooja. (As if!) And Pooja herself realizes that she could probably do better than marrying this poker-faced, never-at-work dude. And Khushi, well, she wins despite hamming through every scene in the movie.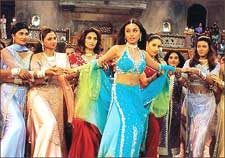 So after an encounter with another bunch of relatives (Khushi's adopted choti maa, tauji, chachaji, chachiji, cousinji ... ah, you get the idea), the two get married and we're told by the director "Everyone falls in love." (Oops, oops... have I revealed the ending?)

Well, I certainly did fall in love in the course of the movie... and I promise from now on - no more monkey business. Coz Confucius say - A well-behaved stuffed monkey is destined to be reincarnated as Sonali Bendre's knight-in-shining-armor.