A glorified pleasantry-coated imitation of the offbeat classic
Dil Chahta Hai
, Sontham merely adds yet another vibrant brick to the ape-movie wall of fame, and we snoots at fullhyd.com, ninety-nine times out of hundred, are not happy for/with these remakes. However, fortunately for Sontham, it has some good things (petite variances in plot, decent music and admirable Sunil-ing... er, clowning) going for it that most of the bygone ill-fated and dear departed remakes didn't.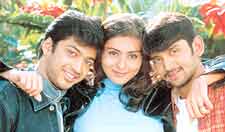 Sontham is a tale of three best friends - Vamsi (Aryan Rajesh), Bose (Rohit) and Nandu (Namitha) the Nandini. Reminiscent of DCH, Vamsi is the vivacious Akash, Bose is the somber Sid, and Nandu is both the sparkling Sameer and the sexy Shalini come together (how very clever, ain't it?!). And then, to squeeze the story into a few words, it is all about how Vamsi, an unfaltering nonbeliever of love, realizes that he is actually in love with Nandu, and about the victory of their love against all odds..
Aryan Rajesh unquestionably performs well compared to his debut dud
Hai
. All the same, he still needs to step up in crucial areas like facial expressions and dialogue delivery. Reading from his unchanged physique, he must be dangerously in short of attendance at the local gym. Blind me Holy Christ, his rapping zillions of goons in one go must be lulling oodles of thin guys out there into
false sense of wellbeing!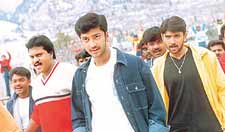 Namitha, choochie-faced curvy tubby lass, has managed to pull off a swell show in her debut venture. Worth mentioning is the comedy-duo Sunil and MS, which spawns brilliant comedy in the first half that has you almost rolling with laughter. And then, ah, Telangana Sakunthala...! Her act as a vile, angry and criminal mom (aw, pity Sunil) is not a needle short of a scrrrrream. And last but not the least, the rendition of background score and music by Devi Sri Prasad could be deemed as appropriate for a flick like this.

Sontham, instead of doubling-up the erstwhile story, is content to merely use the DCH plot's outline, and the result is a mixed blessing. It is nowhere near as classy, mature, or for that matter as easy on the ear as its predecessor, but when compared to most recent comedies, it stands head and shoulders above them, thanks to Seenu Vytla. Then again, the ineffectual and rather drab second half make it no more than an above average flick.