Fresh from the success of one
horror flick
, the team of Bipasha Basu, Dino Morea and Mukesh Bhatt comes up with another. Only, this one doesn't need any wraiths, specters or ghosts for horror - it's horrifies all by itself. If the point was to prove that Raaz wasn't a fluke, then this one is right on the button - it makes Raaz look like a masterpiece.

As further proof of the fact that nowadays filmmakers are getting spoilt by watching good movies, Gunaah is another attempt to create the powerful impact of the corrupt cop - vicious system tales a la Ghayal and Drohkaal. Prabha Narayan (Bipasha Basu) is a tall, good-looking, curvaceous, raunchy and honest police officer, in that order of importance to the movie. Backed by a custom-made flashback involving the death of a crooked police officer at her hands when she was a kid, she decides that she'll be a cop herself and rectify criminals ever after. If you didn't quite get how that flashback can lead to that decision, it's like this: since the days that people were using spears, pigeons have been vulnerable to attacks from professional amphibians, which is how solar eclipses are noticeable only during the day. The point is clear.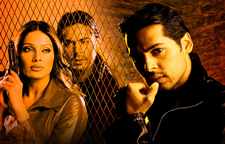 One day during her free time Prabha is chasing a fleeing murderer Aditya (Dino Morea), when she is about to get killed herself, and is rescued by Aditya, who as a result gets arrested. This leads to her getting soft, hot, randy etc. on him, then beating the bejesus out of him, and then him beating the bejesus out of himself.

Just when you are starting to think that you've strolled into some S/M flick by mistake, you get to know that Prabha actually wants to reform Aditya and that that's the only reason that she wants to seduce him. Well, the means justify the ends, and so there's Bipasha in some outfits that no police officer has been known to use to reform criminals so far.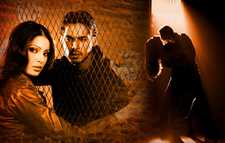 Enter now the real villain, Inspector Digvijay Pande (Irfan Khan), who believes in more traditional approaches - which is good since you normally wouldn't want to see Digvijay Singh seducing Aditya, especially clad in the attires Bipasha's wearing. Now this guy has killed Aditya's dad, a fearless journalist who was poking his nose in places no journalist had ever poked his nose before, and that's why Aditya is after him and he is after Aditya. Understandably, he wants the case so that he can close it forever, and Prabha wants to keep it to herself so that she can ...er, reform Aditya (hee hee!). As for Aditya, he is mostly indifferent to the movie now.

Anyway, the movie plods along and ends sometime later. Bipasha has made a great progress in the kind of roles she gets now - the same, however, cannot be said of her acting. It's like she's concentrating on each dialogue as she utters it. Heck, that's for people who play Prime Minister. Dino doesn't have that problem since he doesn't have to talk at all, and looks like he's found his niche. Not a single terrorist will look up to him, thereby depriving him of recognition in the only special interest group that the role might've appealed to. In other news, Irfan Khan is okay, while Ashutosh Rana is totally wasted. The music is decent, with Jab Koi Dil Churaye deserving special mention.

Tip: People who watched this movie also read "Harry Potter And The Almost Legal Shemale".