I'm not afraid of dumb movies - no, sirree! It's just that I don't want to be there when they show them. Unfortunately, I did happen to be there when they decided to screen this one. With more plots and sub plots than a site at Mohenjodaro, you'll need a brain surgeon to sort this flick out for ya.

Plot 1: Shivaji and Ramesh (Mohan Babu and Srikant) are bumchums wanting to make a quick buck. So they pool forces (or the lack of them) with Pedda Koteshwar Rao (Kota Srinivas Rao) and his entourage of clowns, including one female with clothes that she seems to have bought at the Weekender Kids summer sale. And they decide to rob a bank.

Fine. Bank robbed, money stolen. But Pedda Koteshwar Rao, being the crook that he is, refuses to let anybody have a whiff of the dough. So, like a dog in the manger, he stashes the cash and hides the key.

Sub-plot: The lady crunchily named Cheecha (Radhika Chaudhary) wants to lay her paws on the booty, so she launches into a seduction superdrive of her own, seducing all and sundry and anything decidedly male in nature. Shivaji and Ramesh, meanwhile, are left penniless.

Plot 2: This is the blindingly dumb part of the movie - literally. There is this rich blind couple Raja Garu and company (who look suspiciously like Dhritharashtara and Gandhari taking time off from B R Chopra's Sunday Mahabharata) who spend most of their dark days longing for their long lost Amrikaa abbayi grandson.

Just like horses, even crooks are human, and hence when Shivaji and Ramesh chance upon ol' granddad pining for his grandson, they become czars of compassion and pose as the grandson to rip them off. Due to some quirk of comedy, Srikant becomes the body and Mohan Babu the voice of the grandson.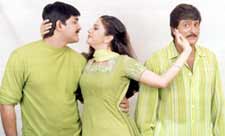 Sub-plot: Enter Gracy Singh as the alleged grandson's alleged girlfriend. Her main job is to act as chief serving fly (Southern Command) in the guys' ointment.

Plot 3: Brahmanandam plays a lawyer who gets his paws on the key that holds the booty.

Sub-plot 3: Awww, gawwwrssssh... jes' watch the dumb movie!

All the above plots and sub-plots are tossed into a large pan burning over the hellish fires of comedy. Tchaaak tchaaak, the thing is stirred about, and you have bandi style Chinese comedy. Cheap, loud, but sometimes fun.

Just like you can't have all your three meals at a Chinese bandi situated at the Ameerpet X roads, you really can't enjoy the whole of this chaotic flick with people clamoring all about as crooks, fake grandsons, fake girlfriends etc. Heck, even the hair on the actors' heads and upper lips is all fake, adding to the flick's fake credibility!

Dotted with some really funny scenes and hilarious acting by Brahmanadam, the flick is a good way to kill time. But, falling short of expectations, it is like a square with three sides. Full of dumb situations and glaring holes in the script, the movie would have to stand on a chair to raise its IQ.

Gracy Singh looks slightly more at ease here than in Ooty in Santosham. She sheds her 'room temperature IQ' wala look and loosens up. Mohan Babu fans might have something to look forward to as he doesn't totally disappoint.

The movie coulda been better, and it's almost like this flick is a few fries short of a Happy Meal. But then, now that we are here, bon apetit.