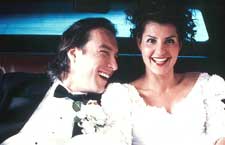 As Tolstoy observed, all sappy ethnic family comedies are the same. None is sappy in its own way. My Big Fat Greek Wedding is one of those movies that exemplifies what Insepctor Clouseau meant by the line, "It's all a part of life's rich pageant." Here are the laughter and the irritations, the tears and, yes, the love of noisy, ethnic family life.

Toula Portokalos (Nia Vardalos) has grown up in a Chicago Greek family, and is a self styled, frumpy girl, hiding behind huge glasses and a mousy hair style, in the family restaurant - and all around her is a cast of eccentric characters. There's Dad Gus (Michael Constantine) your expected excitable type, with archaic preferences about education and women. We have Mom Maria (Lainie Kazan), a long-suffering matriarch who recognizes, "The man is the head of the family, but the woman's the neck - and she can turn the head any way she wants." Then there's one big brother, about 27 cousins and an alarmingly large ensemble of aunts, uncles and nephews, most of whom have two conversational levels - loud and louder.

At this point, any moviegoer will know these waters better than a Mediterranean sea captain, and surely enough, Toula is tired of the status quo, and wants more from life, like romance. A complete makeover later, the ugly duckling quickly blossoms into the requisite swan. In this new avatar, and even before her newly-luscious hair has finished drying completely, she meets and falls in love with a school teacher Ian Miller (Corbett), who is, shock!, horror! not Greek, and, gasp!, vegetarian, and who proposes after a few sticky fumblings in the front seat. And then the fun begins, with the couple trying to convince their respective parents to give their blessings to the wedding.

There's no way of knowing what scenes were left on the cutting-room floor, but Vardalos' screenplay feels awfully lazy. The lovers have barely said hi when the film cuts to them sitting laughing together on the floor like soul mates. You keep feeling that things have been skipped to keep the plot moving. A lot of other jokes are set up but never fulfilled. Ian's parents get drunk at a party, and with all the comedic possibilities of such a scenario, they merely sit there, as the camera gets wobbly to imitate their perspective.

The movie plays like a standup routine translated literally, and thus it comes across as a sitcom instead of a film. The Greek angle is played up too much without any payoff and the movie acts as if the only thing that matters to Toula and everyone who happens to meet her along the way is that she's Greek.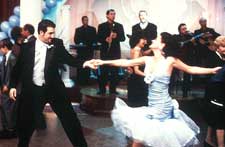 The cast is pretty mixed, and most of the acting credits should go to Corbett who carries off his strangely underdeveloped role with panache. With better direction and a tighter story line, this would have been a laugh riot.

When the pigeons come home to roost and the work is done, My Big Fat Greek Wedding is like a stray kitten. Fluffy. Cute. Liable to produce undesirable results if you feed it too much chicken. While the premise of the movie is charming, the execution is off. This is one of those feel-good movies, but it is easier to feel good if the movie allows you to feel something. It's the type of movie you have a blast at and then, the moment you leave the theater, you instantly forget half of what you just saw. Nevertheless, for pure entertainment value alone, it's definitely worth a look.