The Legend Of Bhagat Singh Review
Performances
Script
Music/Soundtrack
Visuals
Rising above the blatant crowd, director Raj Kumar Santoshi crafts an awe-inspiring recreation of Bhagat Singh in the late 1930s in The Legend of Bhagat Singh. Santoshi strikes a terrific balance of epic scale and emotional urgency. I simply cannot begin to describe the number of things in this movie that made the hair on my hand stand on end, right till the end.

The film opens with Gandhi being grilled by Bhagat Singh's supporters for being responsible for the latter's death. When Gandhi tries to rationalize his viewpoint, one of the irate Bhagat Singh supporters says, "Itihaas aapse yeh sawaal hamesha karega." Did somebody say "itihaas"? Okay, Zap!...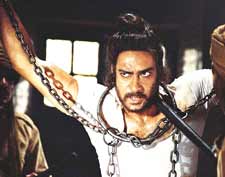 Bhagat Singh (Ajay Devgan) is a teenager infuriated by British brutality in Jalian Wala Bagh. ...Zap!... He joins the HRA (Hindustan Republican Association), with the help of a professor in National College. Inquilab Zindabad. ...Zap!... Bhagat Singh is arrested and tortured by the Britishers on a false pretext of preparing bombs. ...Zap!... Bailed out by his father, Bhagat Singh calls for an All-India activist freedom fighters meeting and forms HSRA (Hindustan Socialist Republican Association). Then, enraged by the murder of Lala Lajpatrai, he puts a British officer to death and brilliantly gets away with it. ...Zap!... Bhagat Singh surrenders to the British, in hope of pursuing the revolution through the media. ...Zap!... Singh sings a lovely patriotic-to-the-core song "Sarfaroshi Ki Tamanna" to lift up the spirits of his fellow jailbirds cum freedom fighters. ...Zap!... The British execute Bhagat Singh and his companions (Sukhdev - Sushant Singh, Raj Guru - D Santosh) but not the patriotic spirit of the Indians. ...Zap!... Independence!!!

Contrary to the popular expectations, it is amazing to see Ajay Devgan as Bhagat Singh. His performance is simply top rate, although his accent at times seems to have gone with the flow. He gives a striking performance as the likeable Indian patriotic hero. D Santosh also delivers, as does the rest of the fine cast. As you would expect, the background music and scores from Rahman are splendid and touching in many a scene.

Santoshi has crafted a poignant, well-paced film that brings to life an Indian hero most of us know mainly through history lessons and books. Whether or not "The Legend of Bhagat Singh" is historically accurate in detail is not really important. That it convey a sense of time, place and importance is what matters, and that it does.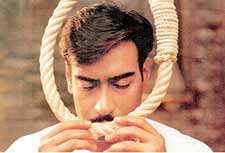 What is also important to remember is that when a movie is as well made as this one, it not only entertains, but educates as well; there is inspiration here that may well become the impetus that leads one to other sources for factual accounts of the revolutionary war led by Bhagat Singh. This is the importance of good movies, and it's all a part of the magic of the cinema.

"The Legend of Bhagat Singh" is an emotionally charged, action packed, memorable patriotic film that is at once both intimate and of epic proportions. It is artistically rendered, beautifully photographed, and well acted; I just don't think there's a whole lot more you can ask of a movie. This is absolutely one that should not be missed.