Vijayashanti is back with a bang... and also with a blow, hit, knock, bash, thump, thud, punch, whack, strike, wallop. This new two-stroke engine revs up from zero to 80 feet high in .23 microseconds. And it's not even endorsed by Sachin!

The grand dame of Telugu cinema and La Femme Lady Superstar is back at your favourite theaters to entertain you with her fights and terrify you with her one-liners. "Basha jagratta, body baddaluvuddi," she says in this quasi-Rayalaseema flick. However, this one distinctly differs from, say, Balakrishna's Chennakesava Reddy, in more ways than one. Instead of white Tata Sumos driven by henchman, here Mademoiselle steers the gaadi herself and this time it's a zany red Toyota Qualis. And no dowdy starched Khadis for her - the chic georgettes and Lizibizi sarees are from Neeru's.

Lady V tries to be everything an average dumb Telugu heroine is not, and that's why we give her a high five. An adrenaline junkie, she asks her Man Friday to step aside so she can step on the gas and drive away at 120kmph in the opening scene. She's the messiah of the masses. When a group of tribals comes to her with a newborn, Indiramma names the child and parts with her genuine 24 carat gold chain. Long live Indiramma!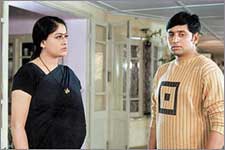 Her other hobbies include winning auctions, bagging million dollar deals and snagging prestigious contracts using her brain prowess. Oh yeah, she's also friendly with an IAS officer who arrives in disguise to help Indira blow the lid off many a scam. Huh, whatever happened to video-conferencing with hi-tech Naidu!

We are not done yet. Ms V is also a kickboxer clad in six yards. She can levitate and stay afloat in thin air until all the goons around her bite the dust. All she has to do is wrap her saree around and she's set. Mana very own Lara Croft.

Lady V is not all action and no emotion, either. She's the foster mom of three kids who lost their dad in a riot. In her previous avtar, Indiramma was Commando Indira who was roped in protect a nice leader and aspiring MP, Anandarayudu, from his political rivals. The poor guy gets killed, but not before he extracts a promise from Capt Indira - that she will take care of his kids and protect them from his rivals.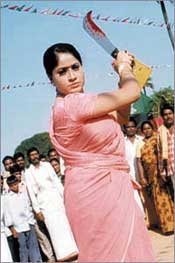 Indira keeps up her promise, and along with her own kid, she brings up these kids, too, who turn out to be a bunch of ingrates later. They accuse her of being their Dad's paramour, of being out there to grab their riches, blah blah blah. But Lara Croft sticks by the family no matter what and makes sure they are safe and sound. And the three eventually realize what fools they were to cheese off this superstar.

Vijayashanti has shed about 25 kilos since her previous movie a millennium ago, and boy, doesn't she look ravishing! She puts in a cool performance and comes across like a quintal of attitude in female form. She acts with restraint, and her intense look definitely in. But the film has nothing else to redeem it. It's scores a zero in terms of plot, inspiring moments and music.

So is Vijayashanti back for good? You bet! Should you watch the movie? Er, can you repeat the question please?