Well, here we are again to evaluate a bundle of corny balloons and baloney corn, a chip out of an old block and a block out of an old chip, full of juvenile melodrama and melodramatic juveniles and a whole lot of yabbos & ta-tas and, naturally, ta-tas and yabbos. Oh, forgot the exclamation mark there. So, here is one - in fact three of them - for you to cut and paste in the correct place!!! Tsk-tsk! It's a gross pity the filmmakers never realise their slip-ups and correct them later.

Sanjana (Kareena or Karreina or Curry-naan or... who cares?) is sporting her svelte slips in the intro song itself, and we're all like hubba-hubba yeah baby... but hold on a sec, isn't this a Rajshree Production? The banner, apparently a pillar of 'clean' family entertainers, has made one to silence the critics this time. To prove they can excel at 'unclean' adolescent drags, too.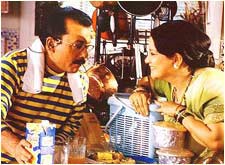 Twelve minutes into the movie, and we have to come to terms with the harsh reality that Sanjana is the show stopper here; she's the headlines and the main event. A golden opportunity to start liking Kareena and, eventually, give up or give in (Thinaga thinaga vemu theeyanundu!).

Next on that list would be Prem (Hrithik), flown in from Timbuktu. Or so I presumed until my neighbour corrected moi. He's from the Big Apple, on a business trip to Sundarnagar, where he'd have to stray away with Sanjana and her folks. Make that a 'stay'. He's the CEO of the Prem Group of Industries, and Sanjana's sister wants her to get hitched to the tycoon.

Pankaj Kapoor and Himani Shivpuri play Sanjana's folks, play cupid and play really well. Hrithik, however, hams his way to Krypton and back, trying hard to impress. He's portraying a vibrant youngster but he looks like he just smooched a toad that turned into Prince Charles or something. Anyway, Sanjana gives into peer pressure and falls for Prem.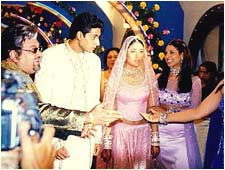 Whining isn't a great habit, but it's better than wildly pounding fists on one's temples. This useful piece of information comes handy during the courtship of our lead pair and whenever those irritating animated pets (a parakeet and a dog) grace the silver screen with their idiocy. Sooraj's dad made Chit Chor some years ago, under this very own Production Company. All Sooraj did here, is to put that old wine into... his mouth and then make the film, high on all the wrong things. And here's how the rest of it looks like:

Prem isn't 'the' Prem after all. The original tycoon (Abhishek Bachchan) couldn't arrive on time, so he sends an assistant; that too with the same name, to take care of the impending business. And thus arrives the Small B as the real McCoy. Sanjana's mom now wants her daughter to marry this Prem and not that one. Sanjana has to make a fatal choice between her sister's word and her own. And I call it fatal 'cos either way she gets a rather stale deal. Abhishek Bachchan as the sombre of the Prems is better, but Sanjana begs to feel otherwise. After the trademark glycerine blitzkrieg, Sanjana and her Prem are together.

But really, Abhishek Bachchan brings sanity to this mess. He does well as the earnest and reserved Prem who craves for the vivacious Sanjana. This love story is panned out in the real Rajshri manner, not trying to be hip and not trying to be like a Karan Johar stinkeroo. Pankaj Kapoor looks at sea in this childish extravaganza. He'd have loved to be in the much subtle and not to mention much, much better original, Chit Chor.

Making a modern movie isn't about showing the audience many 'making out' sequences. And it definitely isn't about a lead man taking his shirt off at the drop of a coin. It's all about a little bit of this and a little bit of that and whole lot of this and that. Okay, so I don't know much about making a modern movie, but hey, I'm not making one. And by the looks of this, neither should Rajshri Productions.