This film is the sequel to 'Aisa Bhi Hota Hai', which brings to mind two questions:

1) Whoever heard of sequels in Bollywood?
2) Whoever heard of 'Aisa Bhi Hota Hai'?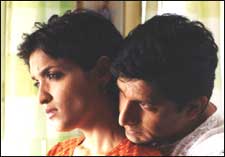 Of course, avid Doordarshan viewers (hyuk!) would be able to recall a show by the same name that aired on Sunday evenings at 6:00. At least the film's crew is honest. In the beginning itself they state the film to be a mindless work of fiction - the emphasis being on mindless.

So, what happens in the film? Well, we have this Creative Director Puneet Sayal (Arshad Warsi) who gets his life all mixed up. How? Simple. He befriends a gangster Vishnu (Prashath Narayanan) while his girlfriend is an honest cop, ACP Agni Sinha (Sandhya Mridul) - two things that would make the mixing of oil and water appear a mundane task.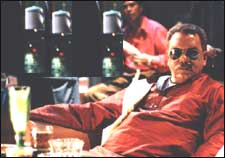 Since we have a gangster, we also need to have two dons, and they come in the form of Ganpath and Gangu Tai, of warring factions. In fact, that Ganpath Don gives us a passing reference to the infamous 'Ganpath Rai' joke towards the end of the movie. And because the joke happens to be unprintable (even for us!), to those who do not know about it we can only say 'sooooo sorry, folks'.

Anyway, Puneet saves the life of Vishnu on the very day his girlfriend asks him to get the hell out of her house. Vishnu, overcome by gratitude, offers him his flat to stay in. The two become fast friends, and it is then that Puneet realises that there is more to their world than bullets, blood and gore. There is a humane side to most of these people, and they also like to party and have fun.

This warrants another thought. Somewhere along the way, as the film was being made, the makers surely kind of got confused. I mean, why else would there be elements of both humor and melancholy in what is essentially a light-hearted film? But then their statement at the very beginning absolves them of all sin.

To be fair, though, the film is not a bad effort - just take Arshad Warsi out of the equation. The item song featuring Maria Goretti has two pluses - one, Maria Goretti, and two, choreography. Prashanth Narayanan is good as Vishnu, though Sandhya Mridul struggles in her role of a tough cop - to be fair, again, Bipasha Basu is to blame for this. She does a damn good job of it.

Normally, films like this are labelled 'experimental'. Pretty appropriate, I must say. After all, what else could Arshad Warsi be but an experiment by Bollywood gone awry?