I took a Tiger Balm to the theater counter my terrible cold, but I found more crucial use for it to counter the after-effects of the movie. AVS' second film, Ori Nee Prema Bangaram Kaanu is so wicked, it will leave you with a splitting headache, far removed from the director's intention of leaving you in splits.

Let's get down and dirty by completing the formality of the movie's story. Rajesh is an orphan who cannot gather any goodwill at his workplace but has fascinating goodwill in his colony. A vast number of comedians are part of this community. The movie begins with a census-taker visiting the colony and asking the residents their names, ages, occupations, hobbies and other character traits that they are likely to show through the rest of the movie. So much for character development.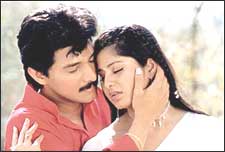 Sangita is a rich girl who falls in love with Rajesh for no sane reason. After 75 minutes and 34 seconds of meandering, the story falls into place. Sangita's dad puts forth a test to check Rajesh's son-in-law worthiness. Rajesh is given Rs. 1 crore, and at the end of one month must give back the entire amount. He has to see the money everyday, hence putting it in the bank is out of question. On the strength of this wafer-thin plot, the movie stands and thus crumbles.

Sangita is a fabulous dancer and is a real treat to watch in the first song, which is choreographed by Lawrence. To say that Rajesh has two left feet would be complimenting him. He looked awkward even in the "slow-motion running on the beach" sequences. Thankfully the director realizes this and makes him an essential part of the background set by making him play an instrument or simply snapping his fingers. He also cannot act. The love scenes were total crap with the lead actors keeping a 2 feet distance from each other. So forget about intimacy.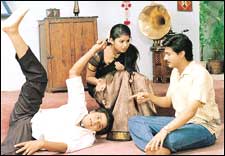 This film's USP was that it featured all comedians in the Telugu film industry. It's very sad to see 25 characters without a laugh between them. All of today's "college classmates of lead hero" comedians* are on screen for only 7 minutes, and this includes the 6 minute song that they sing. This song - Rupee Lekapote Happy - is the best thing happening for the movie. And it's not even catchy.

The funniest parts of the movie are the love scenes in the colony. The ones where a romantic dialogue is followed by close-ups of 20 guys who have the same deadpan expression on their faces, sandwiched by close-ups of the lead actors. One other thing really helping the movie is its clear classification of comedians. Here they are:

*"Classmates of hero" comedians: Ali, Sunil, Ananth, Venumadhav etc. Family men comedians: Brahmanandam, Tanikella Bharani, Chalapathi Rao etc. Female comediennes: Kovai Sarala, Sana, Anita Chowdary, Ramaprabha Bumbling idiot comedians: Dharmavarapu Subbarao, Gundu Hanumantu, M S Narayana etc

And lastly, the comedian who tried to be a serious actor and director and failed miserably: AVS

To all the people who are still planning to see this movie, a word from its sponsors: "Tiger Balm. Don't leave home without it."