Every Telugu movie director knows that there are 4 broad categories of audiences:

1) "Class" audience
2) "Family" audience
3) "Youth", and
4) "Mass"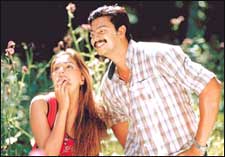 Every single director takes great care to make sure that each and every one of these categories is entertained. Hence we get movies with college-going kids falling in love, opposing the family while singing and dancing in foreign locations. That's youth, family and class. The missing element of mass is taken care by throwing in 3 crass comedians, 2 beat heavy songs and one voluptuous heroine.

Or we have an extremely loyal servant, who tries to reunite his master's broken family and ends up a hacking fool in love. He also cleans up a state in the meantime. That's class, family and mass. The youth is pleased with 3 crass comedians, 2 beat heavy songs and one voluptuous heroine.

Aye.....Wait a minute, that's the same damn thing.

So in conclusion we can say that ANY film featuring 3 crass comedians, 2 beat heavy songs and one voluptuous heroine is one complete entertainer. And a megahit, too.

A pleasant exception of this rule is Okariki Okaru. Exceptions have become the buzzword for anything connected to Ramgopal Varma. Director Rasool Ellore is from his school. So the amazing photography and captivating screenplay should come as no surprise.

The point of my whole rant in the beginning was to hopefully bring forth the point that vulgar spending does not make a good movie. Okariki Okaru, with its Economy Class locations, debutante actors and extraordinarily simple dialogues entertains us more than any other chocolateboy hero's flick.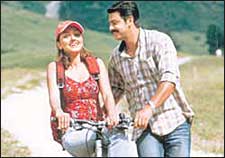 Hero Sriram's extremely simple looks add credibility to his role. Also unlike other heroes of today, this guy can act. Aarti Chhabria is cute although unconvincing in the first half, but does a 180-degree flip in the second. Finally, here is a movie with enough character development to enable us to foretell the character's next move based on past actions. Some people might call this predictability, I disagree.

M M Keeravani's electronica inspired beats, riffs and melodies fight for attention, but together they form some good music. Rarely in movies do we see lyrics that have meaning while still being poetic. That's an unfortunate comment on the creativity of our generation.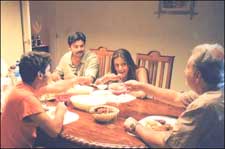 The classy family types will love the movie. The youth will tag along since it's a love story. The movie's real test will be whether it can bring back the audiences for multiple viewings, or lure in the mass audience, especially in the smaller centres.

On its own, the movie has a small target audience. By making the hero a software engineer (using very tacky graphics), they're sure of getting that audience. The heroine's origins ensure the NRI audience. Lyrics from a particular song bear last names of a particular caste. They're definitely coming back. By the way, the girls are bonkers over this movie, so the guys won't be far behind.

Instant hit? No. Sleeper hit of the year? Maybe. Good clean fun? Yes.