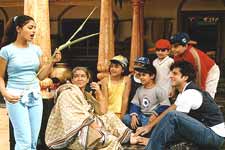 Going by the way it has been copied from Kalisundaam Raa, this one should have been named Aao, Milke Rahe. It's so faithful to the storyline, it's almost like D Ramanaidu wanted to replicate the success of the Telugu version to the T. But formulae seldom work, and KTKKHK fails where Kalisundaam Raa made it. Venkatesh did a great job, and there was some great music in that, too. The movie walked away with a handful of Nandi Awards. Here, we have Fardeen Khan with his "Where is my next shot" look, and Richa who has been feasting all too literally on the fruits of success. The magic is noticeably missing.

Abhayendra Vishnu Pratap Singh (Fardeen Khan, can you believe that?) or Abhay for short (whew! that's much better!) is the estranged grandson of one of those beeeg families in villages. The patriarch is one of the leading figures of the village, and the other leading figure is the patriarch from a rival family. The families are rivals because of an indiscrete act committed by Abhay's dad, i.e. marrying Abhay's mom (not when she was Abhay's mom, of course!).

Anyway, Abhay is called back to the family, and here he faces cold shoulders from his grandpop and also sees the fabled rivalry. But first there are duets to be sung, and he falls in love with his cousin(!) Mangala (Richa). It's suicidal introducing such an element in a Hindi movie. Reactions up North should be interesting to watch.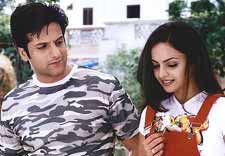 Anyway, he goes ahead and falls in love with Mangala. Now he starts getting the families together. The haddi here is Rudra Pratap Singh (Sharad Kapoor) of the rival family. One big haddi with a talwar and a moochh to boot. He is smoldering 'cos of the age-old rivalry and the so- called injustice done to his family.

But after a lot of melodrama, Abhay manages to get the families back together, and this agreement is solemnized by arranging a marriage between the two families. And Mangala is the bride-to-be. The groom unfortunately had to be from the other family, and so Fardeen Khan is displaced. What a surprise! The ending is equally breathtaking.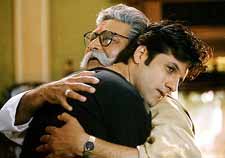 Fardeen Khan finds Venky's vacated shoes a li'l too roomy, and his lost look seems justified. He manages to do pretty well, but when comparisons arise... Richa has put on more weight than she had in Nuvve Kaavali, and for some reason has lost out on whatever talent she showed there. She is nice

when she is bubbly and cheerful, but screws up most of the sentimental stuff. Sharad Kapoor carries that scowl with such great conviction, he may end up looking like that all his life. The rest of the characters form the background flavor and don't do much else.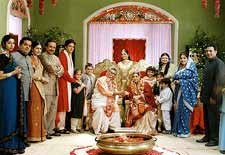 The music by Anu Malik does nothing to add to the value of the movie, and R P Patnaik who composed the background score may be facing his first failure here.

One is not very sure what Ramanaidu was trying with this venture. Ravi Shankar has just faithfully reproduced the original here. But with a lack of relevance to the tastes of the North and some very ordinary performances, one wonders why anyone would make a remake like this.