Before we start off, a small puzzle: If you were in love with a girl who's in love with another guy who's in love with another girl but who's also in love with the first girl and who's having a merry time with two curvaceous girls, then what are you?

a. Male, since the plot has enough complications already
b. A sucker
c. The hero of the story
d. Confused
e. Salman Khan

The correct answer is, of course, "c". Choosing "a" shows a low tolerance for bisexuals, choosing "b" shows too much logical thinking and choosing "d" shows the IQ of a fullhyd.com writer. (To all those who chose "e": we feel a joke is a joke and a lawsuit is a lawsuit.)

For the greater part of Ottesi Cheputhunna, you are wondering why Srikanth is the hero. At best he evolves from being a whining loser to a non-whining one, but if that was all we wanted in a character deserving of being protagonist, we'd be rooting for our Opposition leader in Assembly!

Surya (Srikanth) loses his parents in childhood and therefore decides that he'll never get anything that he wants in life. We suppose even the director realized how this sounds, and so he shows that Surya has also lost a toy and a flower in childhood. It's a much stronger case now, so let's proceed.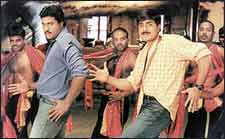 A bank employee now, Surya alternates between bitching about his bad luck to God and downing 200 liters of rum, seltzer and vodka every time he has a minor setback. And just as he is running out of newer self-pity dialogues and your resolve is about to break and you are about to join all the others outside on their smoke/drink/nap breaks... you guessed it! It's time for a dramatic twist!

But no such thing happens, and the film continues to plod relentlessly on. In one of its continuing unrealistic set-ups, Surya lands a photo of a girl and things start becoming much better in his life: he gets a long-awaited promotion, is awarded property long under judicial dispute, and, most importantly, provides the movie with two of the most important ingredients for a duet - a woman and a navel (hers, not his!).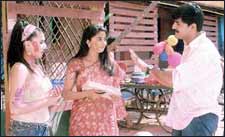 He now traces out the whereabouts of the woman using just the photo - it's not very difficult since he's quite smart, he has his wits about him, he can see in places most ordinary men wouldn't, and, most importantly, the address is in bold right in the middle of the photograph. So the next time you are trying to trace someone's address using a photograph, you know where to look. We're sure if this didn't happen, he'd have tried the next obvious option - 197 or Just Dial.

Anyway, the girl turns out to be Divya (Sravanthi), and unfortunately for him, is already in love with Dilip (Sivaji), an unemployed guy staying as a tenant in her own house without paying the rent. You are surprised by how little it takes for her to fall in love, but Surya instead spots a great opportunity to win the audience's sympathy, and decides to turn Good Samaritan and do his best to get the two married. Besides, anyway he's the guy singing all the songs. Who's the sucker now? Hah!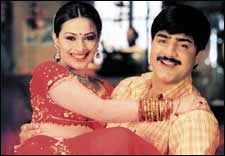 It's 20 years later and you're wondering how this situation will be resolved and how they are going to start the next show in time. The script-writer takes the easiest way out - other than asking you to complete the film in 100 minutes and send your entry, that is. He just makes Dilip evil. So Dilip is shown romancing another girl Rani (Asha Saini) for her money.

The performances are all decent - Srikanth, Sunil, L B Sriram, M S Narayana, Brahamanandam etc. are all seasoned actors, and the women are surprisingly both okay - and there is some tolerable comedy. The seema spoof on M S Narayana is good in concept, but it gets on your nerves as they meaninglessly overdo it. The music is average, though a song called Vennello is decent.

Well? We suppose it's a film you could catch if you have an evening to kill or simply want to come out of a movie theater. We mean, it's not boring as such, just outrageously far-fetched. How many other Telugu options do you have anyway?