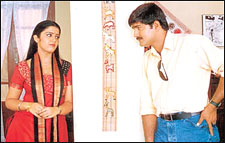 What we own ends up owning us. The greatest benefactor in this regard is money. Money has become the energy that drives the universe. People would do anything for money - eat on time, respect elders, don't spit on the roads, and other politically correct stuff. But sometimes we need to be harshly reminded that money isn't everything in life. There are other cherished niceties of human emotions. Like the joy when one gets by tasting true love. Okay, so maybe pizza can be bought, but there are many things that money cannot buy. There are at least some things, though none come to mind.

I'll cut to the chase. The hero in this one believes in the same thing too. It's either money or the tender body of a young virgin.

The jawless Srikanth is a multi-millionaire who strongly advocates humanity that money can buy godliness. Going by the way Microsoft is dealing, money buys evilness and the entire world, too. But generally his time is completely lost in amassing wealth. One fine day comes along a fine young lady with some fine young cheeks and some fine other organs. With so much flesh on her, she must be fine for feeding a lion for a decade. That remark was made in fine faith and had no fine sexual undertones involved.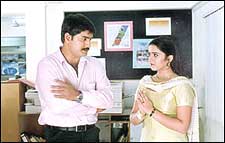 So, our hero finely flips for the fine lady, and the couple is fined in Switzerland for obscene dancing in fine public places. But not everything is as fine as it seems. Our brash Srikanth assumes his financial abilities are enough to get into any panty at will, but whoa Mr. Gold Member, this one's a typical movie-celibacy panty. The only way you get to touch her is when you pay the director for a hot song. But this advice comes too late, and Srikanth is left high and dry when the heroine rejects his love and gallops away to the second half.

The only detail to hold one's attention till here is the drooping skin of the lead players. It's fascinating how artistic fat can look. It must've taken years of practiced hogging and endless cholesterol to perfect the look. Absolute artistry.

So anyway, when Srikanth follows the heroine into the village, her family offers to take him in for the time period to complete his work. They take absolute care of him and treat him the way you and I would treat a multi-millionaire. He falls for the affection-to-a-complete-stranger schtick and denounces his marriage with money, realising that love and affection are better. Especially when there's a ripe tomato like girl involved. Surprisingly, the family still persists on liking the guy. Sheesh, and they call the Osbournes strange.

The concept of the movie is pretty good, but the execution makes you wonder which planet the filmmakers hail from - so that you would point that projection beam to their planet and make them pay. The comedy (har!) is likely to make you laugh if the director is holding a really big gun to your temple. Then also you'd be laughing out of happiness that you're finally going to die. Ridden with pointless and melodramatic clichés, 80% of the people wouldn't like it. From the mindless trivia book: 20% of the population is always unique. It is dead.