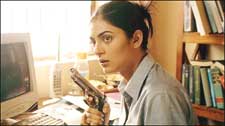 For an industry where women-oriented films mean nothing other than depicting her as a doormat in the first half and a Durga incarnate post-interval, Samay - When Time Strikes comes as that proverbial breath of fresh air.

I always knew that Sushmita Sen had much more to offer us than her 'Mehboob Mere' number, though I never had anything against it (hell no!). And in making that observation, I am not under the influence of being completely head over heals smitten by the woman. In any case, there is more to the film than Sushmita Sen looking fantastic. There is Sushmita Sen's screen presence. There is Sushmita Sen's acting prowess. There is Sushmita Sen's dialogue delivery. There is Sushmita Sen's flair for roles of this kind. There is Sushmita Sen's towering persona. There is Sushmita Sen's... Ah, you get the point.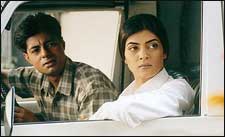 ACP Malvika Chauhan (Sushmita Sen) is investigating a spate of murders. She realises that they are the handy work of one man - a serial killer. The killer is highly intelligent. To him, it is a game. He has made all the rules. He is holding all the cards. If she wants to catch him, she has to understand the game. Actually, he is helping her do just that. He leaves behind clues that are so subtle that only the best in the business can decipher. He wants her to get to him. But, why? Well, giving the answer to that would be too much of an injustice to the film.

That is only one side of Malvika - tough, intelligent, beautiful, and one who gives criminals a hard time. However, in doing this she does not lose touch with her feminity. She is also a single mom bringing up her daughter, Mitthu, after her husband walks out on her. When she is with Mitthu, they are in a world of their own. She is as vulnerable and as prone to emotional blackmail by her child as any mother is. Mitthu is her greatest strength and her greatest weakness. It is this facet of a woman that director Robby Grewal brings out tastefully.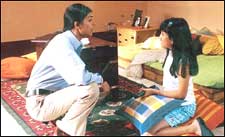 Sushmita fits her role to the T. Wonder if her daughter, Renee, had any part to play in that. Sushant Singh as Satya, Malvika's subordinate, is good enough to make his presence felt in a film that was written solely for the protagonist. But, that 'Laila' song should never have been in the film. It is a foot-tapping number, ideal for the film's promotion, and that's it. A film like this would do better without songs.

To round off, here is what I overheard from the gentleman behind me, "Is film ke saamne 'Kuch Kuch Hota Hai' kapde dho rahi hai." Go figure!