Chronology and logic have never been jacked so royally. Tom Clancy's earlier politico-thrillers (Clear And Present Danger, Patriot Games) had protagonist Jack Ryan depicted as comfortably over the 40 years watermark. But in this flick we seem to step back in time sans the cart- weight of a wife and daughter, and Jack Ryan (Ben Affleck) is nowhere close to the Deputy Director of CIA that he is supposed to become in the next 10 years or so. He's just a raw recruit with the agency blessed with an amazing ability to read and interpret satellite snaps.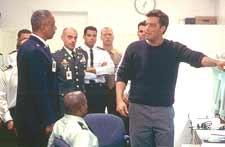 The yarn unspools a couple of decades earlier when an Israeli airplane lugging a nuke crashes. 30 years down the line, the same bomb is dug up and palmed off to a neo-Nazi (Alan Bates) who intends to stir up a hornet's nest between the US and Russia and look away as the barn burns down.

Geek historian Jack figures 1 plus 1 equals a mushroom cloud and that something is a little amiss when a bomb and a couple of Russians go missing. When a stadium in Baltimore is blown to kingdom come, his mundane existence is forever transformed as he alone holds the key to averting super-retaliation by Uncle Sam against the Russian Nanooks of the North.

Ryan tries desperately to piece together all the clues to prevent an all out war that might just turn out to be an exercise in frivolity. Assisting him is the director of the CIA, the super-cool Morgan Freeman.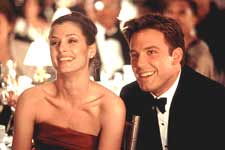 When not spending his days averting apocalypse and fighting off doomsday, Jack spends the nights and about 6 minutes of screen time kissing his girlfriend Cathy Muller (Bridgett Moynahan). She has her moments, though. When Jack tells her that he wont be around 'coz he has to assist the Director of the CIA on a Russian mission, she snaps back, "Oh, that's so lame."

And I could say the same about Affleck's performance - 'lame'. Especially if you have seen the earlier Jack Ryans - the stolid, almost unshakable Harrison Ford and Alec Baldwin. Affleck's teen-shmoozing looks don't really make him out to be the geek that he is supposed to be or the stud that he will eventually become. He hangs in mid-air in terms of his character. But Affleck tries really hard and then it's hard not to like someone who tries that hard (hee hee).
Affleck gets plenty of help from the supporting crew, especially Morgan Freeman and James Cromwell. Watch Cromwell as the American President Fowler, and you'll know why he's come a long way since
Babe
.
The director of the CIA and Ben's boss, Freeman goes about his role with the air of one who knows what's to be done and when. Catch his expression when he realizes that Baltimore is going to be bombed. Now here's a man who doesn't have to shake a leaf to rustle up a breeze.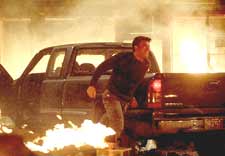 Slickly paced, The Sum of All Fears has the usual political zinger-zone of a Tom Clancy novel. Peppered with chilling visuals of destruction, the movie does draw close uncomfortable parallels with the September 11 attacks. Director Robinson does a great job with his crew and uses them effectively to amp up the tension.

In sum, The Sum Of... is a spy movie blessed with brains. If you're the sorts who likes to read about espionage Prince Myshkins, then this is the best bet!