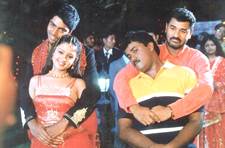 Friends
can go take a walk - Tollywood has its very own Thottigang to keep us in splits for a while. Naresh, Prabhu Deva and Sunil, the official Thottigang, team up with their respective girlfriends to replace Chandler, Joey and Ross and their girls to give our dose of desi humor in this outrageously funny comedy.
Thottigang is like a simple Santa Banta joke with a damn good punchline. For a change, there is neither a campus nor any stupid profs or transvestites to spoil the humor. The comedy is essentially verbal, and with loads of puns. The jokes sound good because of our proximity to the subjects. Jokes on Chandana Bros and Lumbini Park are any day our kind of humor.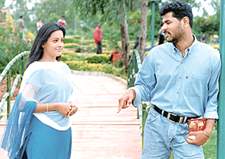 Thottigang takes a wry look at the life of three struggling bachelors and their non-existent love lives. Naresh, Prabhu Deva and Sunil are the proverbial, good, bad and the ugly guys respectively of Thottigang, a good-for-nothing gang. They eke out a living doing freaky jobs like catching canines, combusting corpses and playing a live band at street corner weddings.

The otherwise mundane life of the three school buddies turns exciting with the entry of a kickboxing karate champ Malleshwari (Gazala) who used to beat them to pulp while at school. The martial art queen is keen on snagging the good guy, but he's already given away his heart to his little school friend Venkatalakshmi (Anita) in Class III. So he's waiting for his love to miraculously return to his life and keeps spurning all of Malleswari's offers.

Meanwhile, the bad guy (Prabhu Deva) is in love with the kickbutt girl, and is trying hard to keep her away from the good guy. Of course, the chance entry of Venkatalakshmi makes his task easy because the good guy now flips for his childhood love and Prabhu Deva himself gets his love. Prabhu Deva's smart alec plans of kidnapping Malleshwari and getting Venkatalakshmi to fall for good guy Naresh takes up a chunk of the story.

Naresh gets the meatiest role, and his role as a guy torn between two loves is rather hilarious. He displays a great flair for effortless comedy. Though Sunil still plays his usual 'the one who just never gets it right' guy, surprise surprise, he too gets a girl in the end. Dancing sensation Prabhu Deva plays the scheming, conniving guy who tries all tricks in the book to get his girl. He does his role well, but sadly his dancing prowess is never tapped in the movie.

Gazala rocks as the femme fatale and actually shows even women have a sense of humor. Perhaps after nearly a dozen movies, she finally gets to display her prowess. Anita's role is in contrast to her big girth.

EVV is partial to sonny boy Naresh and gives him the bulk role, but thankfully that doesn't seem such a bad move as he betters the rest. While the movie has some decent gags throughout, some adult jokes about desperate sanyasinis nevertheless creep in. Brahmanandam as the confirmed bachelor too evokes some laughs. There are about six numbers in the movie, and none of them really catches your fancy. But then who cares, as long as you have a good time?

In short, the movie is a like funny e-mail that you'd want to forward to your own Thottigang!