A chocolate fudge sundae is too sinful. So is spending a bomb on that frosted plum Chambor lipstick. Thank God for small mercies, there is Two Weeks Notice to provide an analogous feel-good experience, at a fraction of the calories and cost. Guys, if you aren't tuned in yet, you're invited to read on...

Hollywood churns out "romantic comedies" @ about one every month - most of them ridden with oh-so-predictable plots and even-more-predictable endings. But once in a while, a movie like Two Weeks Notice gets bumped off the same conveyor belt and forces you to believe that not all movies of this genre have to be crappy, soppy and weepy.

The movie has all the prerequisites - rich guy underprivileged in the cranial department, smart girl deprived of luck, money and dress-sense, a feather-light plot, initial differences, jealousy, realization of love... not one cliché is left untouched. But Two Weeks Notice doesn't get bogged down in the swamp of banality, thanks to the perfect casting of the lead pair and the chemistry they manage to create.

The story is about Lucy Kelson (Sandra Bullock), a Harvard-educated lawyer who championed social causes even before she could spell "law". She works as a lowly legal aid consultant until she is offered a job as company lawyer by millionaire playboy George Wade (Hugh Grant). She takes the job even though her political ideals don't match Wade's - because he promises to give her access to his megabucks for her charity work.

A few months into the job, and she spends more time helping him make crucial choices - like the texture of his personal stationery and the women he ought to sleep with. All too suddenly she realizes that this is not exactly what her parents or the profs at Harvard taught her. So she decides to quit, giving Wade... yes, you guessed it right... "two weeks notice". That's the time it takes for them to fall in love - aided by Lucy's jealousy of the bimbette lawyer (Alicia Witt) who replaces her, and Wade's ultimate sacrifice.

The story may be all baloney - it's a foregone conclusion that the two are going to fall in love, without any particular reason. But it's a romantic comedy, which means the lead pair can't end up sorting out their differences to be "just friends". What saves the movie from utter corniness is the brilliant comic timing of Grant and Bullock. It does what the finer examples of romantic movies do - it makes you "want" the two to end up kissing in the closing scene.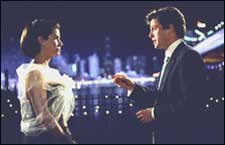 Grant does an encore of his characters in About A Boy and Bridget Jones's Diary, but it's a kind of devilish naughtiness that you can't tire of. And Bullock seems to be enjoying her recently found flair for comedy. The dialogues in the movie help their cause. For example:

Lucy Kelson: You are the most selfish human being on the planet!

George Wade: Well, that's just silly. Have you met everyone on the planet?

And...

George Wade: I'm now poor. When I say I'm poor, I mean we may have to share the helicopter with another family.

Watch out for the sequence where Lucy deliberately tries to get herself fired - she's at her funniest best. There are some distastefully stretched scenes that stick out like sore thumbs in the whole plot - one where Lucy has a sudden attack of diarrhea, and another where she barges in on Wade playing strip chess with his new lawyer.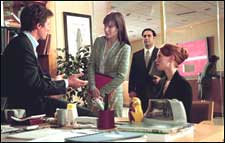 Barring these scenes, the fluffy plot and the grammatical error in the title, Two Weeks Notice is a genuinely enjoyable movie. The background score is zippy and there's no weeping or chocolate-coated mush or lame humor. Surely a flick that even guys should comfortably digest. If your guy whines about watching "another mushy movie" this week, after
How To Lose A Guy in Ten Days
... dump
him
- and don't bother about giving two weeks' notice.
So, if you've been patient enough for the movie to hit local theaters (the US release was in December 2002 and pirated CDs have been around for months), we give you two-thumbs up to go and watch it. Two hours of Hugh Grant is worth a year's supply of fudge sundaes.