Satyame Shivam, written by Kamal, is invaluable as it tries to throw light on the devastating effects of malevolent capitalism and self-centeredness (and consequent indifference towards the welfare of the society), which for years beyond number have affected millions of lives. Going by appearances, it seems like the director-writer duo (Sunder-Kamal) wish to stem the proliferation of these in society, if not completely eradicate them, by means of their latest socio-fantasy on celluloid.

Madan (Kamal) and Satyanand (Madhavan), two guys with perfectly contrasting characters, are thrown into a situation (floods at Bhubhaneshwar) that forces bonding between them. Madan is a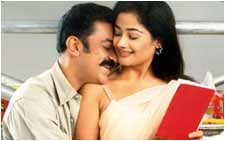 selfless factory worker who is fighting the system to bring justice to his co-workers. He even sacrifices his love for Bala (Kiran Rathod) for the good of his co-workers. On the other hand, Satyanand is a very self-centered ad filmmaker, who is forced to stay with Madan due to floods but soon realizes the greatness of the latter. From then on it is all about how Madan achieves his goal, preaches to everyone "Love is God", and how in so doing earns Satyanand's admiration.

In an opening sequence (a street play against capitalism), Kamal establishes Madan's "character", and from then on keeps reiterating it, which allows the audience to observe and assimilate Madan's thought process. Then on, Madan is able to take the audience along with him, as his problems gradually begin to unfold.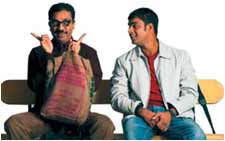 In so doing, he effectively illustrates how his problem evolves, instead of merely explaining the problem and addressing it straight out, which helps in heightening the viewer's emotional participation, ultimately enhancing the impact of the film. As Madan, Kamal, gives out a dazzling performance, establishing the authenticity of Madan's character with a very straightforward portrayal. He never attempts to get around the flaws of Madan. Instead, he uses the flaws to create a character that is simply superb, which makes the character all the more believable. The supporting cast that includes Madhavan, Kiran Rathod, Nazar, portray respective characters effectively, seamlessly complementing Madan's role.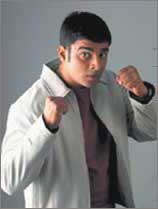 Satyame Shivam, together with melodious music composed by Vidyasagar, offers a memorable (not necessarily a pleasant) experience, which will hopefully prove to be educational as well to those who are unaware that capitalism and self-centeredness have existed, and still do - yep, even in this civilized world. Conversely, Sunder, true to his ilk, tries to pack in traces of mass appeal here and there into otherwise a perfect offbeat movie, depriving the film of its much deserved cult status. Satyame Shivam is up the alley for both elite audience and Kamal fans!