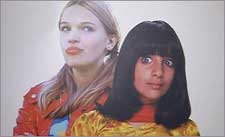 Every movie is unique, just like every other movie - and that's the only reason that Anita And Me is unique. Just like any other Indo-British hybrid that was released recently, Anita And Me is about the trials and tribulations of an Indian family in Britain.

The "Me" in Anita And Me is Meena (Chandeep Uppal), a 12-year-old Hindu girl in Tollington, a small-time racist English village in the early seventies. Most of us may wonder what the big deal is about living in Britain because we are in a period in which if a bar in Britain were to sell 100 pegs of beer, at least 10 would have been guzzled down by someone who's ran his "Hello world!" code back in India. But in the early seventies, the number of Hindu families in some arbit British village was as many as the number of Charminars in Hyderabad.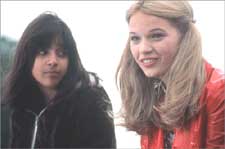 Given the number of people of her kind in Tollington, Meena doesn't want to be her kind any longer. Just then, there moves in Anita Rutter (Anna Brewster) along with her dysfunctional family.

At 14 - blonde, aloof, beautiful, outrageous and sassy - Anita is everything Meena thinks she wants to be, and as Meena manages to wheedle her way into Anita's life, she is introduced to the world of boys, cosmetics and teenage rebellion.

Meena's dad (Sanjeev Bhaskar) and mom (Ayesha Dharker) want Meena to learn Punjabi songs and qualify an entrance examination and pursue the sciences. But Meena has other plans for herself. And so she is torn between two worlds - her religiously strict family and the carefree temptations of the village - and the rest of the movie is about how she deals with it.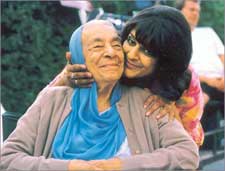 The film has a decent sprinkling of humor, mostly derived from Meena's frivolous view of the ways of her Indian relatives. Zohra Sehgal's role as Meena's grandmother makes this obvious difference between a relentlessly Indian culture and the cheekiness of Tollington even starker.

Chandeep Uppal is a perfect find for Meena's role. Sanjeev Bhaskar and Ayesha Dharker are remarkably subtle in their portrayal of Meena's parents. All in all, it is a pretty decent performance by the entire team. One weakness of the flick is that the relationship between Anita and Meena isn't emphasized enough. But for the parting scene, there isn't a single instance when there is any warmth between the two. It is Meena all through with very little to do with Anita.

One more irritating aspect of the movie is Meena's heavily influenced (British) vernacular accent. It's extremely painful to follow the dialogues and it makes you wish the movie were subtitled or that the British start using their mouth more than their nose for talking. The trouble with Meena's accent would certainly put most people off.