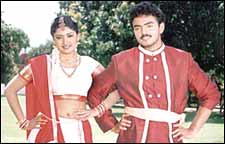 FREE! FREE! FREE... TWO-HOUR KRISH CRASH COURSE IN BHAKTI YOGA... IN A/C ENVIRONS, WITH DOLBY DIGITAL EFFECTS, AMIDST NEAT UPHOLSTERY... LEARN TO FLOOR LORD KRISHNA IN AN INSTANT... GET ALL YOUR DESIRES FULFILLED... OPEN FOR ALL* (conditions apply)... LIMITED DAYS ONLY... HURRY RAMA HURRY CHRIS!!!

No offense to Krishna Consciousness, but Maa Baapu Bommmaku Pellanta yells its tonsils off giving out this message in every frame. Leave alone consciousness, Maa Baa... fails to stir even a feeling in you, assuming that you have not slipped into a state of blissful levitation watching this one.

Miracles, they say, happen to those who believe in them. It happened to the girl in the movie. She believed in the dusky god and she got hitched to the guy of her dreams. But I hoped a miracle would take me away from this bummer movie, and God said, "Let there be suffering."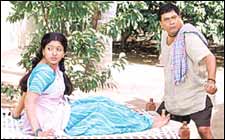 So here I am stuck watching Mohana (Gayatri Raghuram) do a Lady With The Lamp meets Joan Of Arc meets Mana Baapu Bomma number living in Utopia. She smiles at bovine lifeforms, she pats the bakris, she cheers up the marigolds and flatters Lord Krishna with her child talk while carrying out her duties of a maid in the household.

Occasionally Mohana also indulges in some cheap thrills that every healthy teenager her age does. She dreams of a certain bearded six-footer getting married to her and of living wealthily ever after. Thanks to the sleep trailers and her belief in Krishna, this dude enters her life in the form of Vishwam, her master's son.

Now, Vishy loves Mohana and vice-versa, but this Cinderella - Prince love story doesn't seem to be going anywhere. Vishy is about to get married to somebody else because of his Mom's compulsions. Mohana almost wipes off her tears and blacklists him from her dreams. But Krishna appears before her and reassures her she will eventually get hitched to that chap. For the how and why bit, go watch yourself!

It's blasphemy to make fun of Krishna's spot-on timing with his guest appearances to save Mohana time and again. But then what the heck! What else could happen to me? I am already reviewing the scum of the movies!

Debutant Gayatri looks naïve as well as sweet, just the kind of girl who can take you for a ride without you noticing it. And that is what she does with this movie that measures a kazillion lightyears on the sentimeter scale. The only other actor who stands out is Aravind, as Lord Krishna dressed in Fabindia Kurtas and a Gillette shaven look. Seriously, Aravind has something about him that makes him look out of the world. If Lord Krishna really looks so handsome, I think I am turning his devotee this instant.

Director Raviraja tries to put in some family fundas and pop-bhakti doctrines in this one. But nothing seems to make a mark. It's just an average movie with nothing to write home about. Even though several of his movies went on to become hits, this one even fails to hit the nail on the dumb head.

Even if you are heavily into Lord Krishna, you are not obliged to watch Maa Baa... Really, Krishna will take no offense.