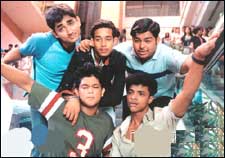 A long time ago, some indulgent mother somewhere watching her little boys beating the crap out of the other neighbourhood kids, smiled and said, "Boys will be boys." Just wish some smart spot boy somewhere had told Shankar that as a movie,
Boys
will be crap. Of late,
Shankar's films seem to start with great promise and end up wetter than Neha Dhupia in
Qayamat
.
The imaginatively titled Boys revolves around the lives of Munna and his four friends, whose names matter about as much as the food menu in a strip club. The boys are generally drinking and smoking their way through life when the vivacious Harini (Genelia) waltzes into Munna's life and, inevitably, the lives of his chums. The boys also have a seemingly innocuous interaction with one Mr. Mangalam in a bar. Like buying a leather jacket in May, this happy little bonding session is utterly useless now, but is to prove significant later.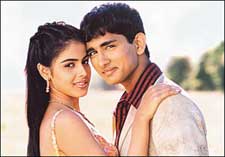 Anyway, we now have the equation five horny boys and no girls = no fun. So we have a mass dating program involving Harini's friends. So now it's 5 boys, 5 girls, 5 relationships = no chance for the director. So he's looking to nip this in the bud, and while on the job of cutting the storyline, sees Munna's pants. Yes, yes... patience, baba... I'll explain.

Led to believe that Harini will love him if he proves his commitment by running naked on the road, Munna does it (yes, he does!). Forget the Pacific Ocean - we have found new depths to which filmmakers will go to pull a story. This is the first time I've actually seen censors blacking out moving images. Sheesh!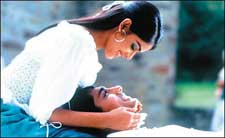 So our boy with the... well, rounded objects, shall we say, of steel gets thrown in jail for putting the family jewels on public display. The parents of all parties involved say 'no more'. What follows is a really cheap, crass bartering of juvenile pop philosophy about youngsters being exposed to sex through the media all the time so they can't help thinking about it. The situation gets out of hand and Munna and Harini decide to elope.

For some absolutely wacko reason, everyone else wants to elope as well. Inexplicably, from one scene to the next, 10 lovers are drastically reduced to the lead couple and the other 4 boys. Guess if you're not the hero, you are about as desirable as second hand smoke.

Post-interval, we are taken into the magical world of what happens when dumb teenagers do dumb things like Munna and Harini did. Everybody does odd jobs and they manage to scrape together an existence. A brainwave follows, and they make a living from music. Some further twists later they become popstars, and even death and impending divorce do not stop them from sweeping the MTV awards. Yay! And I'm Alice in Wonderland.

I found it a little difficult to believe that such plainly pedestrian music could be A R Rahman's. At times, I felt I was part of a live audience being subjected to the first ever show of 'When music directors attack'. The songs reeked of a wannabe hiphop and rock feel, which made them basically an assault on the senses. And the dancing... either the choreography was really bad or the actors are just begging to have Shiamak Davar on speed dial - on bad dancing emergency call.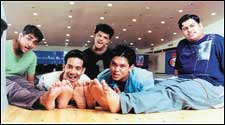 Shankar's talent as a director is obvious in the first fifteen minutes itself when he makes excellent use of slow and fast motion cinematographic techniques. But he has a very long way to go to become a good story writer.

All the boys play their parts well, as does Genelia D'Souza. But some scenes make you realize why she's doing cosmetics ads - 'cos she needs them so badly! Some sort of attempt at being different or 'hip' has been made, like calling the interval 'gap'. I remember thinking at the time that maybe the biggest 'gap' was between the ears of some people involved in the making of this film. All in all, strictly timepass - nothing to write, well, anywhere about.