Welcome on board Calcutta Mail. In the course of this two-hour long train journey cum tour package, you will enjoy:

1) Many trips to Howrah Bridge
2) A ride on the famous trams of Kolkata
3) Fleeting shots of the Metro Rail
4) A free tour of sleazy bars in Sonagachi - Kolkata's red-light district 5) Super bonus offer: Accommodation in a chawl that looks suspiciously like the one in Praan Jaaye Par Shaan Na Jaaye

Jeez, even the AP Tourism Department comes up with better packages! But the above offer wasn't a complete washout... it had one taker in the form of Avinash (Anil Kapoor). And the purpose of his madness? It is revealed only after an hour of the movie - so you'll have to read through some more text before we get to that part.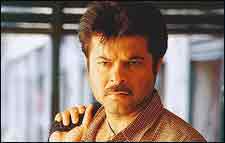 The movie opens with a brooding Avinash arriving bag and baggage in Kolkata. The friendly neighbourhood taxi-driver takes him to a chawl where he has to share the last room with an irritatingly hammy Bulbul (Rani Mukherjee). Chivalry overcomes him and he decides to let her have the room while he sleeps outside. His days and nights are occupied hunting down Lakhan Yadav (Sayaji Shinde). We're shown some shoot-outs on the streets and bars of Kolkata (which are mostly sets in Hyderabad).

Finally the reason behind Avinash's pursuits is revealed through a convoluted flashback sequence: Avinash, on a journey on the ill-fated Calcutta Mail, rescues Sanjana (Manisha Koirala minus 20 lbs) from her fiancé Lakhan Yadav, who is a Bihari political goon. Yadav works for Sanjana's father (Satish Kaushik). Avinash and Sanjana fall in love, get married and have a kid - all this unknown to her father. When he gets to know, about 5 years later, he kidnaps the son through Lakhan Yadav and also kills his daughter. And so Avinash comes to Kolkata to get his son back.

There isn't much point going on about the plot because it gets even more muddled. The movie could have been a stark thriller about a regular guy getting embroiled in the political-underworld nexus. Instead, it turns out to be a horror story about an unsuspecting audience getting entangled in a plot devoid of all sanity.

Anil Kapoor tries his best to make the movie watchable, but his efforts are eclipsed by terrible editing and mediocre screenplay. Rani Murkherjee tries her best not to impress (oh, she is a novelist who stays in the chawl to get a "feel" of the place for a new novel - and yeah, she falls for Avinash too). Manisha Koirala looks bored throughout her 15-minute appearance.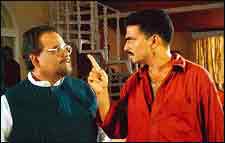 Atrocious Bengali accents by the supporting cast and the miscasting of Satish Kaushik as a villain make you wonder why they made the movie. Sayaji Shinde is pretty good, but then so is every other Hindi movie actor who plays a Bihari goon. (Hey, maybe Tusshar Kapoor could play a Bihari villain in his next movie - he could just discover some unknown acting skills.)

There are three songs in the movie - forgettable, because you forget the songs even as they are singing them. The backdrop of Kolkata could have been more innovatively used, but they don't explore much further than Howrah Bridge, the trams and Durga Pooja celebrations.

Bollywood has been the fountainhead for many adages... we could add another one to the list. "Beware of movies with intriguing titles - that's where directors exhaust all their creativity."