Dil Vil Pyar Vyar Review
Performances
Script
Music/Soundtrack
Visuals
the happening faces in Bollywood

Ctrl B: Make bold, go ahead and violate the copyrights of old melodies

Ctrl C: Copy the basic story of classics like Abhimaan and other assorted mushy-sentimental movies

And so on so forth... This is how director Anant Mahadevan went about digitally remixing some old concepts to bring out the squeaky new flick called Dil Vil Pyar Vyar. And our guesstimate is that the audience will just do Ctrl Z: undo his effort. Sad, but true!

Dil Vil scores three stars for great music (courtesy some awesome hits of early Bollywood), pretty faces (the new crop of twenty-nothings in the lead) and soft romance (love notes, flowers and all that jazz). But a sluggish pace and the lack of a strong script offsets the above score, thus making it an average film.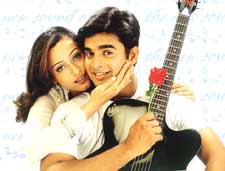 It's a pair too many - three actually - in Dil Vil. Since six is a crowd, here's their intros made easy for you.

Madhavan: Krish, aka Mr Talented. Loves wife, but hates her success.

Namrata: Raksha aka Ms Desi Celine Dion. Loves . hubby, but hates his overbearance. The couple dreams of making it big in the world of music. But only wifey manages to hit big time. Her name and fame as a pop diva create a rift between the couple. Shades of Abhimaan here.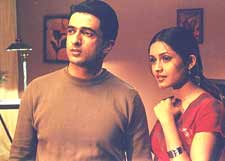 Sanjay Suri: Dev aka Mr Long Face. Has a crush on gorgeous neighbour, but can't get over his wife's death.

Sonali: Gauri aka Ms Nonstop Yapyap. Has a return crush on Mr Sad Face, but her mentally disturbed brother gets all her attention.

The two act as emotional anchors to each other and love blossoms. Smooth sailing for them.

Jimmy: Hrithik aka Loverboy. Loves a working class girl, his Dad's riches and music, in that order.

Hrishitaa: Jojo aka Ms Pricey. Loves to flaunt her 'I spit on riches' attitude.

Money is the only problem. It's not her chawl status, though, but his riches that pose a hindrance. Jojo tells Hrithik to stand on his own feet or take a hike. Lover boy proves his love and his worth by almost winning a singing contest.

The movie traces the individual stories of the three couples turn by turn. But the pace is so excruciatingly slow that even if you jog around the theater and come back, it would still be the same scene. Then, of course, the predictability in the story. The moment Raksha gets her first solo offer to sing, we almost instinctively know what comes next - that Madhavan's self esteem will suffer a severe blow. Same in the case of Dev's story. He goes to his neighbour's house when the electricity goes kaput. So the predictable 'arre sambhalke' trips and those touch-and-feel scenes. God, haven't we seen them a zillion and one times before?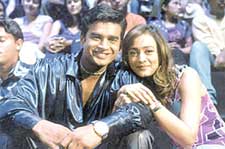 Amidst the crowd, Namrata stands out. Both for her fresh look and her performance as a docile wife. Next in line are Sanjay Suri and Madhavan. Hrishitaa and Jimmy are the teenybopper pair who add some zing to the whole thing. Dil Vil... follows the bumper sticker logic of "If your brakes don't work, make your horns louder." Debutante director Anant Mahadevan undoing is trying to substitute a strong script with eight pretty faces and seven mast numbers.

If you can discount these flaws and focus on the positively exhilarating music - everything from O Haseena Zulfowali to Gum Hai Kisike and Yaadon Ki Baraat - and can appreciate some slim waists and zit-free cheeks, you've got your time and money's worth.