Mother, do you think there's hope for me?

Mother, do you think there's worse left to see?

Mother, do you still say... I shouldn't sweeeaaaar?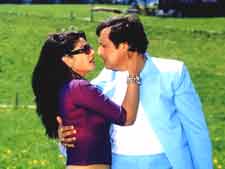 That's how Jimmy Morrison would have put it if he sat through three hours of crap going incognito as "Akhiyon Se Goli Mare". And then he would have blown his brains out with an overdose of Acid to try and forget it all.

The flick kicks off, and poor-ol'-deluded-me thinks to myself, "Govinda is looking thinner, and is dressed soberly, and isn't screaming at the top of his voice. This looks promising!" Poor-ol'-deluded me.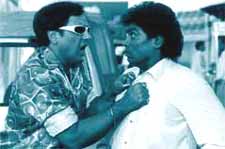 Raj Oberoi (Govinda) is stinking rich. He sees Kiran (Raveena Tandon) and falls in love with her. They sing a duet. Bhangari Dada (Kader Khan), Kiran's dad, is the undisputed king of Mumbai's chor-bazaar, and wants his daughter to marry a certain Shakti dada (Shakti Kapoor) 'cos of his impressive charge sheet. A contrived situation follows and Raj and Kiran meet again, thinking they are supposed to marry each other. They sing a duet. This sets in place an alternating sequence of contrived situations and duets.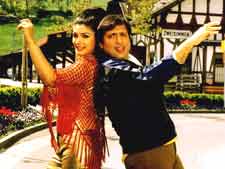 Raj takes training from Subramaniam (Johnny Lever) to become a thug, and becomes Bhopdi dada to impress Bhangari. He meets thugs like Baba Chhabri and Faiyyaz Takkar on the way, and outsmarts them with supposedly funny techniques. Just when everything is set to end happily, the director realizes there's an hour of empty reel left and so introduces Rana Saheb (Kader Khan), Bhangari's dad... And you are actually reading all this!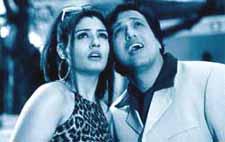 Ordinary songs, shoddy editing, contrived story, very un-funny humor and some seriously irritating sets of vocal chords. This movie has everything going against it. Everyone in the movie except Raveena acts on an "I-can-shout-therfore-I-can-act" principle, and she acts on an "I-can-pout-therefore-I-can-act principle. Refreshing. And Govinda continues following the advice of a certain anonymous stranger who told him in the spring of 1996 to watch his mouth... I think he is beginning to develop a squint.

That's all, folks. All rise to the sound of whistling to the tune of "Mother, do you still say... I shouldn't sweeeaaar?"