An emotional Bollywood flick is definitely not recommended by the doctors for ailments, especially for indigestion. They might perhaps prescribe it for intensive shock therapy. However, a light-hearted comedy film is not such a harmful affair, unless, of course, you try to swallow it. And under normal circumstances you wouldn't try doing that, but we're not talking normal here.

We're talking mayhem, chaos, pandemonium, disarray and all the other synonyms from the Webster's Thesaurus, at their looniest best. We're talking cinema where outrageous ideas (like swallowing a film) and outlandish antics (ditto) are in strict co-ordination with the script. We're talking cinema at its daffiest best. We're talking Hungama.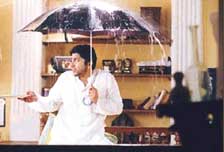 A look at the first few frames of Hungama reveals enough for a heedless dweeb to loosen his tight pants and relax his mouth muscles. Because right from the start all that the movie does is set up itself to unleash a relentless attack of laughs. These laughs are manufactured mostly by the situations the characters get themselves into. Let's meet a few of them then:

Nandu (Aftab): He's this dopehead trying to make it big as a singer. His married landlady fancies her chances of eloping with him and he fancies his chances with Anjali, his roommate by fate.

Anjali (Rimi Sen): Hailing from the village, she's stuck with Nandu as a roommate and a job that she got by lying bare-faced. She's conned her boss Jitu into believing that she's the daughter of the business tycoon Radheshyam and wants to make a mark for herself out of the shadow of her dad.

Jitu (Akshaye Khanna): A rebellious son, he sets up his showroom by robbing his own house! When Anjali approaches him for the job, he's thrilled to have her, expecting to become the only son-in-law of the industrial mogul, Radheshyam.
Radheshyam (Paresh Rawal): This tycoon is but an old village coot. He finances everything from the village itself (Laloo, someone?). Now he wants his wife Anjali to learn the ways of city mongrels. So they shift to their villa in the city to become part of the elite. Anjali (that lady from Hum Paanch): A standard village wife learning how to run on the city treadmills, she's all furious because she thinks her hubby is having an affair with the city bird Anjali and that he's got illicit children. This she concludes from the constant bickering of Kachra bhai (Shakti Kapoor). She's also mad because her hubby seems to believe that she's having an affair with Jitu.

Kachra bhai (Shakti Kapoor): This guy believes that Radheshyam's son is engaged to his daughter. But in reality, the guy who engages his daughter was just a conman using Radheshyam's goodwill.

So we have a Jitu telling Radheshyam that he loves Anjali, and the only Anjali that Radheshyam knows, being his wife. Then we have Nandu (Aftab) trying to shoo away a suitor (Rajpal Yadav) for the other Anjali, who's running in and out of Radheshyam's villa pretending to live there. We also have a Kachra bhai threatening Radheshyam to give up his son for marriage while the actual conman is hiding away. Apart from this, we got a load of other jesters further entangling this web of mistaken identities, mistaken circumstances and mistaken mistakes. Put all this into a Telugu daily serial and even that would not fail to entertain!

The performances are all above par. For a debutant Rimi Sen is quite fine, and please excuse her body, it's all messed up because she fell all the way from heaven! Hoo-boy, hoot, hoot! As much as that hooting was for Rimi, it's even more for the show stealer here. No points for guessing: Paresh Rawal. This guy is the king, the pharaoh and probably the god of modern comedy. Priyadarshan definitely knows how to use him, and he also surely knows how to make a fantastic film. There's no doubt that Hungama is a classic just like a Hera Pheri. Having said that, talking about Hungama in the same breath as Hera Pheri is unlikely. It's not possible to talk in a single breath when one's gasping for air in between laugh riots.