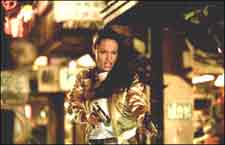 This one is strictly for action buffs who firmly believe that films were never meant to make any sense, especially when a relic hunter (is there such a thing?) is assigned a task by MI6 that it normally reserves for 007. And what a smashing relic hunter she is! Her lips seem to have been tailor-made for kissing - except when you are feeling hungry because then they just look like two slabs of liver and there is only so much a starving man can do with meat.

So, when Lara Croft (Angelina Jolie) is not performing tricks on her water scooter, taking a joy-ride on a shark in the open ocean, riding her bike on the Great Wall, crashing million dollar planes, diving from rooftops, performing circus acts in Shanghai or kicking some ass, she actually finds the time to save the world. This time she has to save it from the clutches of Dr. Jonathan Reiss (Ciaran Hinds) who wants to find Pandora's Box, and I am not talking figuratively.

Oh, yes! There is truth behind the legend, but the version that we have been passed on is far from it. Supposedly, that box started all life on this planet in a place called the 'Cradle of Life'. Like all things come in opposites (male-female, good-bad, matter-antimatter, Angelina Jolie- Billy Bob Thornton...), once this box gave life, all it had left were the elements to destroy it. And our very own Lara has to keep Dr. Reiss from getting his hands on it, as he plans on using it to develop the most potent weapon known to humanity (what else?).

As has been the tradition of Hollywood action flicks, whenever the heroine needs any assistance, she is helped by an outlawed ex-flame, in this case Terry Sheridan (Gerard Butler). Together they form a formidable team that can four-handedly beat the crap out of two hundred hands. And that is as far as anyone can get himself to write about the film's contents (I am amazed I even managed to write this much!), thanks to the complete lack of writable stuff in it.

A movie like this usually provides the actors with no scope for performance except when they have to perform the 'act'. But Jolie's and Butler's chemistry is so non-existent that when you watch them kiss you know that you might as well be seeing two giraffes mate on Discovery. The background score is great, though it would have been more appropriate for 'Stewart Little'.

For those of you who want to have a 'good look' at Jolie, you will not get much better opportunities than this. When she is not in her bikini she is in a cat suit, and we all know how much a cat manages to conceal. And that British accent? Puhlease! Leave that to Liz Hurley. However, if I were to give something credit, it would have to be the photography. That is simply fantabulous, and manages to lift the film up by a few notches.

A great time to catch the movie would be after you are done with your shopping. Just relax in the theatre's air-conditioning!