Curiosity among us cat-populace overrides all cynicism about the theatrical talent of all those born of an elite sperm, and to satiate that curiosity we embarked on yet another hazardous verity-seeking expedition. But this time we realized that we followed the "curiosity" too far, when we outlasted "Neeto" only by a whisker! Meeeeeeeowch purrrr!

Neeto is hullabalooed as a diverse love story. The modest multiplicity we could unearth in the movie was the use of an airport for the climax instead of the clichéd railway station. Other than that, this is about as similar to any other love stories that went before as it could get.

Madhav (Surya Prakash) is the confident, cheerful and only son of a multi-millionaire (Prakash Raj). In the quest for a potential bride for himself, he enrolls for a short-term course in a college. Shalini (Mehek), the beauty of the college, is one cute, love-forbidding avant-garde (ultra-posh) sweetie.

One fine day Madhav happens to catch a glimpse of Shalini hopping in rain, and murmurs to himself in a Countrified-Butler-English burr, "God, she is beautiful! God, she is fantastic!" And we could sense our alter egos yelling in unison, "Gawd, he is horrible! Gawd, he is pathetic!"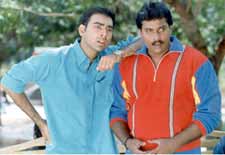 As anyone and his grandma would guess, Madhav is head over heels in love with Shalini. But Shalini, notwithstanding a liking for Madhav, says that love is not her cup of tea, and instead suggests that they remain friends forever. Then the story swivels around a Shalini who would outdo a chameleon on its own grounds... She ultra-sporadically keeps changing her mind regarding the love affair. Finally one fine day in an airport, she acknowledges that she really is in love with Madhav, and obviously we will all live happily ever after.

Finale? Not all of the performances are up to the mark. Surya has heaps and masses of homework to do, be it on the choreo frontier or on the theatrical. Sunil's performance is au fait, with one of his dialogues being "Cheppulu lekunda tiragake talapotu vastundi!" Mehek's "show" was pretty good for a tenderfoot. Easy on the ear, mellow scores from Vidya Sagar make the movie agreeable and pleasant to an extent.

Needless to say, some folks will ensure that this one sticks on for a while in the theaters. We all know who this kid was born to, right?